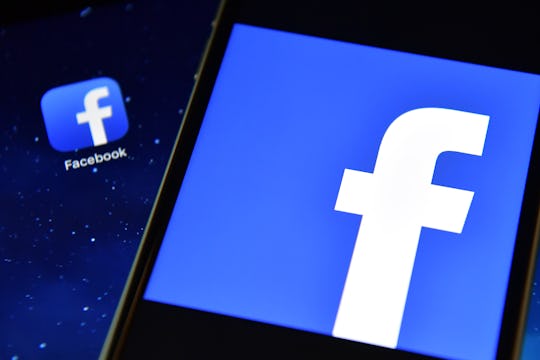 Carl Court/Getty Images News/Getty Images
Toxic Misogyny Is A Theme In Horrific Facebook Murder
It is a story so chilling it's almost hard to believe, but on Sunday, an Ohio man identified as Steve Stephens allegedly shot and killed 74-year-old Robert Godwin Sr. at random, and then posted a video of the alleged murder on Facebook, according to CBS News. Cleveland police issued an aggravated murder warrant for Stephens late Sunday night, and in a statement, referred to him as "armed and dangerous." With a manhunt now underway, the pieces of Stephens story are beginning to come together — including the fact that Stephens reportedly appeared to blame the murder on his girlfriend. Stephens' horrific and graphic Facebook video shows that toxic misogyny is rampant in the Robert Godwin Sr. video, just as it often is in many high-profile and public violent acts. Stephens did not immediately respond to Romper's request for comment, and a representative for Stephens has not yet been appointed.
According to CNN, police first became alerted to the murder Sunday afternoon, when several people reported seeing a video on Facebook of Stephens allegedly pointing a gun to a Godwin's head and firing. Before the shooting, Stephens can reportedly be seen in the video driving around, claiming that he'd already killed 13 people and was "working on 14 as we speak," according to BuzzFeed. That claim has remained unconfirmed, but in the video, Stephens allegedly explained that he "just snapped," and that he was "just driving around hitting motherf***kers."
Shortly after, it appears that he came across Godwin — Godwin's son, Robert Godwin Jr., told Cleveland.com that the retired father of nine children, 14 grandchildren and "a lot of great grandchildren," was walking around his neighborhood Sunday collecting aluminum cans as he often did, when Stephens approached him. According to BuzzFeed, before exiting his car, Stephens can be heard on video saying, "Here's somebody I'm about to kill. I'm about to kill this guy right here. An old dude."
Stephens allegedly then asked Godwin to say the name of his girlfriend, before telling him that "She's the reason, why, uh, this is about to happen to you." Before being shot, Godwin reportedly pleaded, "I don't know anybody by that name."
In an interview with CNN, Stephens' mother said that she had last seen her son on Saturday, and that he had told her "it would be a miracle" if she ever saw him again. They spoke again Sunday, when she said he told her "he was shooting people because he was angry with his girlfriend."
Stephens' alleged partner, Joy Lane, spoke to CBS News via text message following the murder, and requested privacy. Lane wrote,
We had been in a relationship for several years. I am sorry that all of this has happened. My heart & prayers goes out to the family members of the victim(s). Steve really is a nice guy... he is generous with everyone he knows. He was kind and loving to me and my children. This is a very difficult time for me and my family Please respect our privacy at this time.
Beyond what Stephens said in the video, and what his mother and partner have said since, it's not known exactly what caused the man to allegedly kill at least one innocent person in what he allegedly referred to in the video as his "Easter day slaughter." The alleged shooter does not appear to have a criminal record beyond a few traffic violations, but The Telegraph noted that other posts on Facebook allegedly written by Stephen seem to suggest that he had a gambling problem, and that he could end up "losing everything," possibly including his relationship with Lane, whom he reportedly referred to as "the love of my life."
Without more details, the motive behind Stephens' actions is still speculation, but the fact that he blamed the killing on his girlfriend, both in the video and in the conversation he had with his mother, seems like it would be reasonable to assume his anger toward her or toward some other aspect of their relationship was a huge factor. And if it was, it wouldn't be a surprise: this kind of rage directed at women is heartbreakingly common in high-profile shootings.
In an article for Rolling Stone in 2016, writer Soraya Chemaly noted that, after the Pulse shooting in Orlando, subsequent analyses of the shooter highlighted the fact that he didn't seem to have a history of hate crimes or a criminal record, and focused instead on his Muslim background. But what he did have, it seems, was a history of domestic violence and a general hatred of women. A former coworker of the shooter, for example, described him as having "anger management issues," and said that "something would set him off" — namely "women, race or religion."
Then there's the fact that he allegedly beat his ex-wife: according to The Guardian, she told reporters following the shooting that soon after they were married in 2009, the shooter became abusive, that "he would get mad out of nowhere," and that he held her "hostage" from her family. Eventually, she said, her family had to literally rescue her — she said that they "had to pull me out of his arms." Their marriage ended after only four months.  
Ultimately, the Pulse shooter took his uncontrollable rage out on innocent people in an LGBTQ club, killing 49. And while that might not at first seem directly linked to the very same rage he took out on his ex-wife, Chemaly aptly noted that, in the fundamental comparison between gay men as being "feminine," or in seeing homosexuality as a threat to masculinity in general, "homophobia is nothing if not grounded in profound misogyny." As Chemaly explained, "regardless of religion or ethnicity, anti-LGTB rhetoric is the expression of dominant heterosexuality that feeds on toxic masculinity and rigid gender stereotypes."
Need another example? How about the shooting at the Umpqua Community College in Oregon in October 2015, which left a professor and eight students dead. The shooter eventually shot himself after his deadly rampage, but in a multiple-page, typed statement found by police, he allegedly explained his actions as being fueled by his anger at how he felt his life had turned out, according to The New York Times. Like the Pulse shooter, the Umpqua Community College shooter's anger seemed to be triggered by religion — he allegedly specifically asked his victims if they were Christians before shooting them — and also by women. A police official who spoke to The New York Times about the shooter's statement noted that "he didn't have a girlfriend, and he was upset about that."
Again and again, misogyny seems to be a recurring theme, even if it's not always front and center in the news reports. When a 59-year-old man opened fire in a movie theater in Louisiana in July 2015, killing two women and injuring nine other people, police told reporters that they weren't sure if they'd be able to definitively determine why he did it. And while Louisiana State Police Superintendent Colonel Michael D. Edmonson said they were "trying to put the pieces together to figure out why," according to The Huffington Post, he also admitted they "may not find a motive."
Yet the shooter himself seemed to make no secret of a laundry list of reasons why he may have chosen to take his anger out on innocent strangers watching a movie that day. According to The Los Angeles Times, the shooter had allegedly expressed anger toward "taxes, liberals, newspapers, gays, and the United States" and had "expressed interest in white power groups and neo-Nazis." He also allegedly had a history of domestic violence against his wife and daughter, and in 2008, his wife filed a petition for a restraining order against him, telling people "she had removed all the guns from their home because she was afraid of him."
Similarly, the man behind a 2014 shooting near the University of California, Santa Barbara was also more than happy to share his misogynistic gripings prior to acting — in this case in a YouTube video. And he left little room for interpretation about how he felt about women. According to Mic, he said,
It's not fair. You girls have never been attracted to me. I don't know why you girls have never been attracted to me, but I will punish you all for it. It's an injustice, a crime, because I don't know what you don't see in me. I'm the perfect guy, and yet you throw yourselves at all these obnoxious men, instead of me, the supreme gentleman.
He even went as far as outlining his plan to kill women at UCSB, as payback for his fragile masculinity:
On the day of retribution, I will enter the hottest sorority house of UCSB, and I will slaughter every single spoiled stuck up blonde sl*t I see inside there. All those girls that I've desired so much, they would have all rejected me and looked down upon me as an inferior man if I ever made a sexual advance towards them. While they throw themselves at these obnoxious brutes. I'll take great pleasure in slaughtering all of you. You will finally see that I am in truth the superior one. The true Alpha Male.
There's no denying the fact that Steven Stephens — along with all the other men who have felt entitled to deal with their anger by allegedly murdering innocent people — had major issues. And it's possible that the public will never fully know exactly what was happening, or why he did what he did. But he also didn't try to hide how he was feeling, or the fact that he seemed to feel perfectly justified not only in killing someone at random, and not only for blaming it on his girlfriend instead of himself, but in posting it online for all to see, presumably quite proudly.
It's possible to argue that Stephens' motive went beyond misogyny, just as it's possible to argue that the Pulse shooter's actions weren't relevant to the fact that he allegedly beat his wife, or that the various college shooters felt unfairly scorned by women. But the fact that so many men who plan and execute public murders for revenge and glory feel the need to communicate their hatred or anger towards women is something that shouldn't be ignored or downplayed. After all, until it's taken seriously, it seems inevitable that these kinds of violent acts will continue to occur.