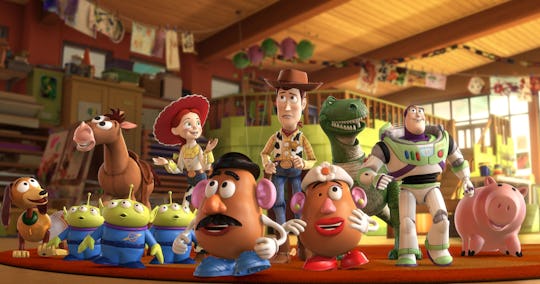 'Toy Story 4' Is Definitely Happening & In Production, So Celebrate With A Box Of Kleenex Now
Start stocking up on your Kleenex now, because there will definitely be a Toy Story 4. And we can certainly trust the news since it comes from one of the most trusted sources in the franchise, Woody himself. Yep, Tom Hanks confirmed Toy Story 4 would be happening while appearing on The Graham Norton Show.
That said, you might need to dedicate a storage closet to those Kleenex, because it will be quite some time before you get to use them. Hanks also told host Graham Norton that Toy Story 4 wouldn't hit theaters until... 2018. That's right — 2018. Three whole years from now. But, as Toy Story films in the past have taught us, good things come to those who wait, right? Like, really, really good things. (Who doesn't break out into sobs just thinking about Toy Story 3's conclusion?) Confirmed Hanks:
It takes a long time ... We are working on it right now. I have a recording session on the second of December.
And, of course, it will be quite some time before we know exactly what the film is about. Though we know the regular crew will be returning, complete with Buzz Lightyear and all, we know nothing about the storyline itself. (Though there is speculation that Bonnie, the girl who adopted the Toy Story toys at the end of Toy Story 3, will return, and director John Lasseter has said the storyline will focus on Woody's love life. But what does that mean about Andy?!) That said, we do know that there are some other pretty awesome names attached — including Rashida Jones and Will McCormack, who worked together on Celeste and Jesse Forever.
So start the countdown (and crying) now!
Image: Pixar