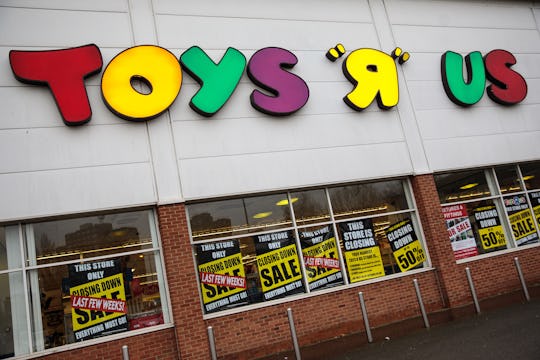 Jack Taylor/Getty Images News/Getty Images
Toys 'R' Us's Closing Sale: What To Buy Before They Vanish For Good
It's a sad day for Toys "R" Us kids everywhere (even the ones who are all grown up): The once-ubiquitous chain, which filed for bankruptcy in September, is reportedly planning to close or sell all of its stores across the United States. All of them! That's over 700 stores! It's super sad on so many levels, representing both the end of a childhood tradition and the overall decline of the retail industry in general, though there is one inevitable silver lining: There's bound to be an unbelievable Toys "R" Us closing sale. But when can we expect the savings to start?
As Business Insider reported, Toys "R" Us officially filed liquidation papers early Thursday, a move which could put 33,000 employees out of work. But after a particularly bleak holiday season, the business is nearly $5 billion in debt, with the store expected to run out of money in May. And while there is hope that some stores will find a buyer, this still more or less means the end of Toys "R" Us as we know it.
As for when those doors will close for good, the date remains unclear. The liquidation filing states that the jobs of current employees are safe for 60 days, but Toys "R" Us also stated that all gift cards will expire in 30 days; the loyalty-based "rewards dollars" and "endless earnings" programs will likewise end in 30 days.
That doesn't give shoppers a whole lot of time to cash in, obviously, but you should be able to score some major deals when you do. Bankruptcy lawyer Corali Lopez-Castro told Business Insider that massive liquidation sales could start "within a matter of weeks."
"Toys "R" Us is not going to want to drag this out," Lopez-Castro explained.
The initial discounts might not be that huge, as The Washington Post reported, likely starting at around 25 percent and increasing as the final days approach. Some locations have already started having going-out-of-business sales, according to USA Today, a process which kicked off in February after the company announced plans to close up to 182 stores in January.
So are there any deals you can take advantage of now? You bet! Even if you don't live near one of the stores that's already started having sales, the clearance section on the Toys 'R' Us website seems particularly stocked at the moment with lots of significantly marked down items.
This Barbie Star Light Adventure Galaxy Castle Playset, for example, ordinarily retails for $40, and it's currently marked down to $20 (and, OMG, how cute!!):
Looking for something a little more educational? This Learning Resources STEM Simple Machines Activity Set, originally priced at $25, is now just $10! It's pretty cool, too: It comes with a lever board, wedge, pulley with rope and hook, a cart with 4 removable wheels, an Archimedes screw, and 4 barrel weights, all with the purpose of helping kids ages 5 and up to "acquire the skills needed to enter STEM-related fields." Not bad for 10 bucks!
Perhaps you've got a Shopkins fan in the house (as so many parents do). This Shopkins Chef Club Juicy Smoothie Collection is discounted from $15 to $7, and comes with 8 exclusive Shopkins, one Jumpin' Juicer, one Glass of Juice, one Stirrer, and one Collector's Guide.
If none of these strike your fancy, there are many, many other toys on clearance right now — so if you've got a gift card burning a hole in your wallet and don't want to wait for the really major sales to start, you can still save some dough. (And don't worry: This story will be updated as more information becomes available, so you can get make the most out of a situation that's otherwise sort of a major bummer.)
Check out Romper's new video series, Bearing The Motherload, where disagreeing parents from different sides of an issue sit down with a mediator and talk about how to support (and not judge) each other's parenting perspectives. New episodes air Mondays on Facebook.