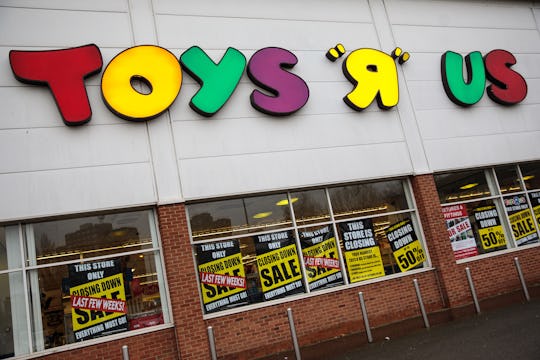 Jack Taylor/Getty Images News/Getty Images
Former Toys 'R' Us Employees Used Social Media To Say Their Final Goodbyes
For millions of adults across the country, saying goodbye to Toys 'R' Us is like saying goodbye to their childhood. Even if your parents couldn't afford the prices, your family still went to Toys 'R' Us so you could play with the latest action figure or ride around on the newest bike. It was the place where you didn't have to grow up — where, even in your 20s, you could still be a kid. But customers aren't the only ones lamenting the beloved chain's demise: on social media, Toys 'R' Us employees said goodbye with emotional messages as the final stores close their doors for good.
After more than six decades in business, Toys 'R' Us ceased operations on Friday as it shuttered over 700 of its remaining U.S. stores, including Babies 'R' Us, according to CBS News. As a result of the company shutdown, about 33,000 employees are out of work without severance, the news outlet reported.
Many Toys 'R' Us workers, some of whom gave more than two decades to the business, took to social media to share stories about their time at the big box chain — whether it was shopping, stocking shelves, or designing toys.
The history of Toys 'R' Us starts in Washington, D.C., where it was founded as a kids' furniture store under the name, Children's Supermart, according to USA Today. The owner, Charles Lazarus, expanded his goods to include toys in 1957, renaming his store to Toys 'R' Us. More than a decade later, everyone's favorite giraffe, Geoffrey, was introduced as Toys 'R' Us' mascot, USA Today reported. And this week, he waved goodbye for the last time.
But the closure was a long time coming. Toys 'R' Us had failed to make a profit for years, and had been burdened by debt in a 2005 leveraged buyout, according to Bloomberg Businessweek. The new owners, Bain Capital, Kohlberg Kravis Roberts, and Vornado Realty Trust took the company private, in part, to help boost sales.
In September, the iconic toy retailer filed for Chapter 11 bankruptcy protection, and then for liquidation in March, Bloomberg Businessweek reported. The liquidation process forced Toys 'R' Us to close down for good.
This is not the first time Toys 'R' Us has had to shutter its doors, though. In 1983, the company founded the children's clothing chain, Kids 'R' Us, but all of those locations closed down 20 years later, according to ABC News.
But as bittersweet as the closure may be, it's also maddening for thousands of Toys 'R' Us employees.
Toys 'R' Us executives had reportedly received millions of dollars in retention bonuses, which were approved shortly after bankruptcy was declared, according to Newsweek. Yet, while they're walking away with fat paychecks, those people who've lost their jobs have not been given severance pay to help cover expenses as they look for new jobs, Newsweek reported. (Romper reached out to Toys 'R' Us for comment but did not hear back in time for publication.)
Employees, however, have begun to fight back, according to Axios, demanding around $70 million in severance for the more than 30,000 rank-and-file workers forced out of a job. But the issue is far more complicated than it seems on the surface. For one, Bain and co. no longer own the toy retailer. And second, a bankruptcy court judge dismissed the severance package because workers "weren't high enough in the creditor stack," Axios reported. So whether or not workers will receive a penny of severance remains to be seen.
In the end, the demise of Toys 'R' Us is a stark reminder of how nothing lasts forever. But at least Toys 'R' Us kids still have their memories.