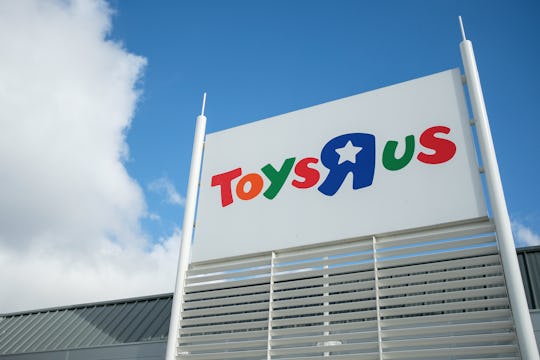 Leon Neal/Getty Images News/Getty Images
Toys "R" Us Filed For Bankruptcy & Twitter Is Freaking Out
On Monday, news broke that Toys "R" Us filed for bankruptcy protection, which — don't worry — doesn't mean that the classic toy store will be closing down right away. Instead the toy store announced that it would be keeping its doors open for the holiday season while looking for a way out of its growing debt. While Toys "R" Us' days aren't necessarily over yet, millennials on Twitter are all collectively freaking out about the glum news surrounding the store they grew up with.
According to Reuters, the Chapter 11 filing means that Toys "R" Us will ask a federal judge to allow it to borrow money in order for its stores to stay stocked during the 2017 holiday season. Toys "R" Us has racked up $5 billion in debt, which makes the bankruptcy filing on Monday one of the largest ever filed by a specialty store.
"Today marks the dawn of a new era at Toys 'R' Us where we expect that the financial constraints that have held us back will be addressed in a lasting and effective way," CEO Dave Brandon said in a statement. For now, the store plans on keeping all of its outlets open, but the future of its nearly 1,600 locations and 64,000 employees seems slightly uncertain after such a large bankruptcy filing.
Loyal Toys "R" Us fans took to Twitter on Tuesday morning to air their grievances:
According to Slate, Toys "R" Us has been struggling with debt for a number of years, thanks in large part to competition from e-commerce (Amazon is the only store that sells more toys than Toys "R" Us, according to Reuters) and large retailers like Walmart and Target. And the stiff competition is not something uniquely faced by Toys "R" Us: this year alone, nine other American retail chains have filed for bankruptcy protection, according to NPR. Tens of thousands of retail workers have lost their jobs as stores have been forced to close.
"The disruption is just unfolding," Mark Cohen, former CEO of Sears Canada, told NPR in May. "I think the number of store closings will continue at an accelerated pace right through this year into next year."
According to Forbes, Toys "R" Us has tried a number of strategies to help grow its business in recent years, including buying out competitors (such as FAO Schwarz and KB Toys), expanding internationally, and lowering prices. Now, in order to survive, Toys "R" Us will be trying to revamp its physical stores by creating interactive play spaces, according to USA Today, and it will put Babies "R" Us and Toys "R" Us storefronts in the same location to save on rent costs. It will also aim to improve its online shopping experience, invest in delivery, raise wages, and turn Babies "R" Us into a lifestyle brand.
A few Twitter users were less sentimental about Toys "R" Us' bankruptcy news:
Despite filing for bankruptcy protection, Toys "R" Us leaders remain optimistic about the company's future. Brandon told USA Today that the company was "here to stay" despite its debt, continuing:
Toys R Us delivers children their biggest smiles of the year. Toys R Us gives parents, in turn, who used to be Toys R Us kids, an opportunity to fulfill their children's wildest dreams.
Judging by the many nostalgic social media posts that were shared after news broke of Toys "R" Us' bankruptcy protection filing, Brandon has a point. Personally, I'm hoping that if I ever choose to have kids, I'll be able to pass on the magic of wandering around in a toy store full of wonders — so if you're looking for me, I'll be over here, keeping my fingers crossed that Toys "R" Us survives this challenge.