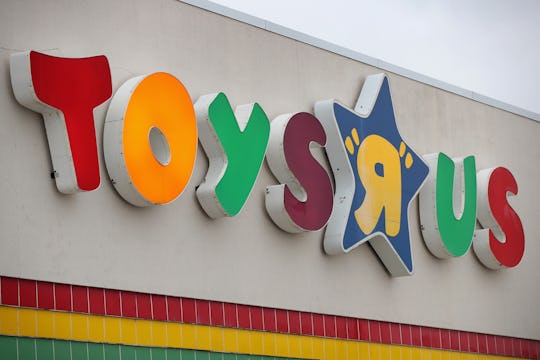 Scott Olson/Getty Images News/Getty Images
Toys "R" Us Is Coming To Grocery Stores Across The Country This Holiday Season
Just when you thought you've heard the last of the Toys "R" Us saga, the toy conglomerate is back, but not in the way you'd expect. And with holidays right around the corner, you're going to love what they have in store. No, like literally in store. Toys "R" Us is coming to grocery stores across the country with "Geoffrey's Toy Box," named for the brand's giraffe mascot.
Toys "R" Us has reinvented itself as "Geoffrey's Toy Box," which will essentially be a pop-up toy shop housed within over 600 Kroger-brand stores across the nation, according to Business Insider. Think of it as a store-within-a-store.
Geoffrey's Toy Box will feature 35 different toys, ranging from $10 to $50 and will include exclusive toys from brands like Animal Zone, Imaginarium, Journey Girls, Edu-Science, You & Me, and Just Like Home, according to the Toledo Blade. Of course, selections and availability will vary from store to store.
So what does this mean for the average shopper? Crossing off toys on your child's wish list could be as easy as heading to the grocery store. Milk, eggs, bread, Legos, Hot Wheels. You get the picture.
Back in September 2017, Toys "R" Us filed for bankruptcy and liquidated all of its U.S. stores, causing an outcry from long-time fans. Many of them grew up shopping the aisles of this big-box toy store, and were nostalgic over its closing.
There was nothing like walking down those big aisles filled with toys. Everyone wanted to be a Toys "R" Us kid back in the day.
Last month, in a last-ditch effort, controlling interests in the brand made moves to reinvent itself, as the New York Post reported. Of course, Geoffrey is the beloved Toys "R" Us giraffe mascot that's long been associated with the brand.
Last year, Toys "R" Us accounted for 15 to 20 percent of all toy sales, and the company is hoping that Geoffrey's Toy Box will fill that gap left behind when the toy giant closed, according to CNBC.
The good news is that employees who were laid off in September are now being asked to come back and help make Geoffrey's Toy Box a success this season. Over 31,000 employees were laid off when the company liquidated, according to CNN.
Reactions to Geoffrey's Toy Box are mixed, with fans saying that it just won't be the same this holiday season.
There's no mention of whether Babies "R" Us, which was also liquidated along with Toys "R" in September, will be making a similar comeback.
Pictures of the new Geoffrey's Toy Box are slowly starting to appear on social media. And while it's definitely not the same, the presence of the brand's faithful long-necked mascot should comfort long-time fans.
Only time will tell if the concept of Geoffrey's Toy Box will take off with consumers. But in a world where convenience rules, it's a sure bet that many busy parents will like slashing two errands off their list at once.