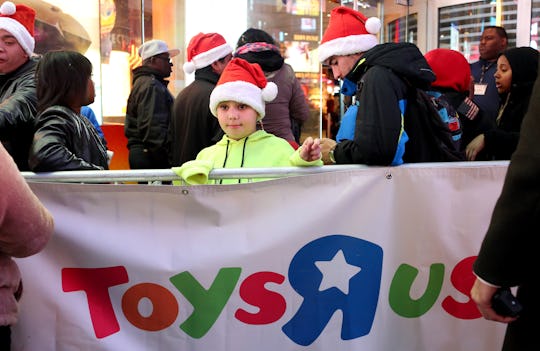 Yana Paskova/Getty Images News/Getty Images
Toys R Us' "Quiet" Shopping Time Will Benefit Parents Of Autistic Children In A Big Way
Just before the season of hectic holiday shopping kicks off, Toys R Us introduced "quiet" shopping time for parents with kids who have autism. When you think about how rambunctious, sale-hungry crowds running around shopping malls amid loud and repetitive Christmas music can make everyone feel (a bit overwhelmed, to say the least), this is a really wonderful idea that will be especially beneficial for autistic children in a big way. But locations of the toy store in the United States need to get on board first, as only Toys R Us branches across the United Kingdom will reportedly be holding the quiet shopping hour, for the time being.
According to The Telegraph, starting on Nov. 6 the changes that will go into effect during that hour are quite simple. They will include dimmed lights, reduced quantities of fluorescent lighting, and no in-store music or loud speaker announcements. Autism-friendly signage will also be put in place as well as quiet zones for families.
"Holding such events has given our teams extreme pride in reaching out to autism groups within the community," Toys R Us marketing director Mike Coogan told The Telegraph. "Making slight adjustments to stores and creating a quiet shopping period allows children and young adults to experience the fun in a toy shop, regardless of their disability."
Daniel Cadey, autism access manager for the National Autistic Society, told The Telegraph that the organization was "delighted" by the simple changes that will be able to make a huge difference for the nearly 700,000 autistic people in the United Kingdom and their families.
"We're delighted that Toys R Us is again showing the way by hosting an autism-friendly shopping event in every Toys R Us store in the lead up to Christmas," Cadey told The Telegraph. "We hope that many more major retailers will follow the great example set by Toys R Us."
He continued, "For many autistic people and their families a simple trip to the shops, which should be an enjoyable experience, can be fraught with difficulty." Cadey explained that things like artificial lighting and loud-speaker announcements can increase an autistic person's anxiety, making the whole shopping experience completely overwhelming. He also noted that many of these factors can even cause them physical pain.
Toys R Us isn't the first shopping chain in the United Kingdom to adopt a quiet hour for autistic and disabled shoppers — Asda, the British supermarket retailer tried out a quiet shopping time back in May, which was big success and led other shops to do the same. Now every Saturday, Asda superstores give its customers maps of the store in pictures, rather than in text, and turn off escalators, in-store music and, display TVs.
Considering the positive feedback and success of the quiet hours in stores across the United Kingdom, it would be wonderful if major retailers in the United States also offered this innovative approach to shopping. Not only would it be greatly beneficial to the one in 68 children in the United States with autism, but to their families as well.