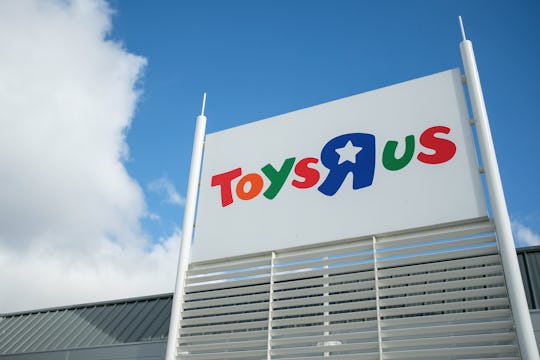 Leon Neal/Getty Images News/Getty Images
This Might Be The Last Month You Can Use Your Toys "R" Us Gift Cards
Following the news that Toys "R" Us is having financial issues, a concerning claim about the retail chain's gift cards surfaced online. The Scotsman reported on Saturday that Toys "R" Us stores are no longer accepting gift cards, and this story is understandably frustrating a lot of parents. But what's really going on here? The truth is a bit complicated.
Before you freak out, the most important thing to note here is that the void gift card issue only affects consumers in the United Kingdom at the moment, according to Snopes, a fact-checking website. Stores in the U.K. (I didn't know the retailer operated locations across the pond, tbh) stopped accepting gift cards on March 11, according to The Scotsman's report. "Gift cards and vouchers will be honoured until Sunday, 11 March [2018]," Toys "R" Us' website stated at the time, according to The Sun. "There are no refunds for cash value on any gift cards. But customers are encouraged to redeem such vouchers as soon as possible as stores may be subject to closure without notice."
And on Wednesday, Toys "R" Us announced its plan to shut down its last 100 stores in the U.K., according to CNN. It's expected that 25 locations will shutter by Thursday, and the remaining 75 stores will close within the next six weeks, according to the Daily Mail. Clearly, the retailer decided to void the gift cards in anticipation of the closures. Unfortunately, this means that about 3,000 U.K.-based Toys "R" Us employees will lose their jobs, the Daily Mail reported.
But what does this mean for families in the United States? Essentially, the outlook isn't good. If the retail chain failed to find a buyer for it's U.K. stores, there's a significant chance it won't be able find solid ground here in America. Making matters more troubling is that Toys "R" Us is supposedly preparing to liquidate its U.S. operations, according to a report from Bloomberg published on March 9. If the report is true, it's likely that all of the chain's stores will close its doors. The news follows Toys "R" Us filing for bankruptcy in September 2017, according to CNN, in addition to a slough of other financial problems. Toys "R" Us' Coordinator of Corporate Communications, Taylor O'Donnell, tells Romper in an email that the retailer has "no comment" about the rumored liquidation plans.
Of course, if there are no more Toys "R" Us stores, your gift cards will be useless. The good news is Senate Minority Leader Chuck Schumer (D-New York) wants to help families who are worried about useless gift cards, because it's incredibly frustrating to have credit you can't use.
In a letter to the Federal Trade Commission on Wednesday, Schumer said of the situation, according to the New York Daily News:
It appears the music is about to stop for the iconic retailer and consumers could be left in the lurch when it comes to the loss of a whole lot of money in unspent gift cards.
As for Schumer's solution to this mess, he hopes the retailer will allow consumers to exchange their gift cards for cash. Schumer's argument is that Toys "R" Us encouraged to families to shop during the holiday season, despite it's numerous financial issues. The issue also happens to be near and dear to Schumer's heart, as he helped pass a bill in 2009 that requires retailers to honor gift cards for five years after their purchase date, according to the New York Daily News.
So, if you're concerned about your unused gift card, I recommend two things. For starters, pay attention to Toys "R" Us website throughout the coming days and weeks, because there's a good chance that's where the retailer will update consumers about gift cards. Secondly, I'd advise families to use their gift cards ASAP. Time is of the essence, people.