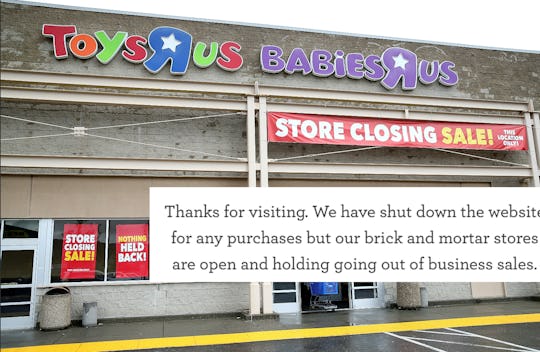 Justin Sullivan/Getty Images News/Getty Images
PSA Parents: The Toys "R" Us Website Has Officially Shut Down
The end of an era is finally upon parents, children, and those children-turned-adults who grew up galavanting in the aisles of the children's toy store, Toys "R" Us. It was announced earlier last month that Toys "R" Us and Babies "R" Us stores would be going out of business and now that time is really among shoppers. Over the weekend, Toys "R" Us' website shut down but the message to its customers on the website is so sweet and important.
You'll never forget those days in your childhood when your parents brought you to Toys "R" Us, even if it was "just to look and not buy" any toy in the store. Nothing compared to seeing those toys that you had watched in the commercials in real life and is a thrill that could not be replaced by online shopping, even by shopping on the Toys "R" Us website. And if you try to visit Toys "R" Us' website anytime soon, you're going to be out of luck. This is because, in September, Toys "R" Us filed for bankruptcy, according to the New York Times, and six months later, announced they would be shutting down all of its stores, according to CNBC.
As a result of this, Toys "R" Us shut down its website completely on Thursday evening, according to Good Housekeeping, making all of those features you used to access on the website impossible to see. Instead, shoppers are greeted with a pretty nice message from Toys "R" Us, informing customers about their website and business shutting down.
The statement on the website says:
Thanks for visiting. We have shut down the website for any purchases but our brick and mortar stores are open and holding going out of business sales. We encourage you to stop by your local store and take full advantage of the deep discounts and deals available. Thank you for your business and support over the years. Sincerely, Toys "R" Us and Babies "R" Us teams.
Once you're on the Toys "R" Us website, it directs shoppers to another website that answers some of their more pressing questions about what is happening to their online orders, in store liquidation sales, and registries with Babies "R" Us. I know what you're thinking — if the website is permanently shut down, what happened to my baby registry with Babies "R" Us?
Hopefully you had plenty of time to prepare yourself after it was first reported in the beginning of March that Toys "R" Us and Babies "R" Us would be closing all stores, according to the Wall Street Journal. If expecting mothers had registered with Babies "R" Us, according to Toys "R" Us' website, they were still able to access their registries until the website shut down — but if they didn't memorize their list of purchased items, they're out of luck. Toys "R" Us had been encouraging customers to write down their registries and the items that had been purchased off of their list, according to their website. Now, accessing that is sadly impossible.
Accessing their baby registry isn't the only thing that shoppers are mourning about the closing of Toys "R" Us and Babies "R" Us stores, they're just sad to see it go in general. Over on Twitter, people are rightfully collectively mourning the loss of one of their favorite stores.
The good news is, most Toys "R" Us stores have not shut down yet and merchandise is deeply discounted (with discounts expected to get better as time goes on). The store will continue to honor gift cards to Toys "R" Us until April 21, according to CNN, so it's likely that stores will be staying open until then, too. So, parents still have a little time left to see what they can grab off the shelves for next Christmas and people can go and pay their respects to their favorite toy store from their childhood before it's gone for good.
Nothing will ever replace those memories people made as kids in the aisles of a Toys "R" Us. And their website shutting down makes this statement feel all the more real.