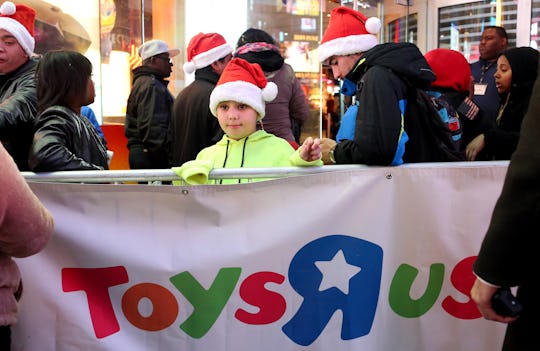 Yana Paskova/Getty Images News/Getty Images
Toys "R" Us Will Be Open For 63 Hours Straight Starting Friday
It's the Friday before Christmas. Last-minute shoppers will be out in droves this weekend, in an attempt to get everything on the list before Christmas Day on Monday. And one store in particular is more than prepared for the crowds, no matter when they show up. Toys "R" Us will reportedly be open for 63 hours straight, starting Friday morning, until 9 p.m. on Christmas Eve. Yes, you read that right. 63 hours of possible shopping time. So parents can show up to grab that late addition to their kids' wish list at any time over the weekend, day or night.
Joe Contrino, a spokesman for the toy store chain, told USA Today that stores nationwide will stay open from 6 a.m. Friday morning through the evening of Christmas Eve. Saturday is likely to be one of the biggest shopping days of the year, with around 126 million consumers expected to shop on what's being called "Super Saturday," according to the National Retail Federation. By staying open round-the-clock, Toys "R" Us can appeal to those shoppers no matter when they swing by the toy store giant.
As of Thursday, nearly half of Americans hadn't yet finished their holiday shopping, according to a survey released by the Federation. So, is it a good plan to stay open all those extra hours just in case those shoppers need the extra time, or is it kind if a ridiculous gesture on Toys "R" Us' part?
The thought behind the move is probably just that more hours equals more shoppers, but only time will tell whether it pays off for the struggling toy retailer.
In general, the aisles are sure to be cramped if you head out this weekend for shopping. Matthew Shaw, CEO of the National Retail Federation, said in a statement:
Even though many consumers got a head start with holiday shopping early in the season, millions more are leaving their gift buying to the last minute and beyond...Stores will be packed the next few days as consumers rush to complete their shopping.
But will those shoppers show up at midnight at a Toys "R" Us, or stick to more normal shopping hours out of habit?
The toy retailer is probably hoping for a major profit boost from staying open so long right before Christmas, because frankly, it really needs it. There are reports that the company is considering closing 100 stores or more across the country as it tries to pay down $7.9 billion in debt, according to The Washington Post. Toys "R" Us already reported an 8 percent sales drop for the period ending in September, the outlet reported. Chief Executive Dave Brandon said in a statement:
Our results for the quarter were disappointing. We recognize the need for change to better meet customers' ever evolving shopping preferences.
Maybe a multi-day spree of keeping stores open for last-minute and night owl shoppers during the holidays is exactly what it needs to bounce back, but it's likely that Toys "R" Us needs to do a lot more than that to recover from its financial woes.
But no matter what is in the toy retailer's future, some shoppers did say they appreciate the expanded hours right before Christmas this weekend. Kelly Bennin of Florida said she's definitely taking advantage as a late-night shopper. She told USA Today:
I'm a night owl so I appreciate the stores being open later. I'm sure my fellow procrastinators, as well as people who work day shifts or don't like to shop online, will be happy with the extended hours too.
In 2016, Toys "R" Us said almost 156 million Americans shopped on "Super Saturday," according to Patch. If some of those millions of Americans happen to be parents rushing out after bedtime or in the wee hours of the morning, Toys "R" Us isn't going to judge, and neither will I. Godspeed, last-minute shoppers.
Check out Romper's new video series, Romper's Doula Diaries:
Watch full episodes of Romper's Doula Diaries on Facebook Watch.