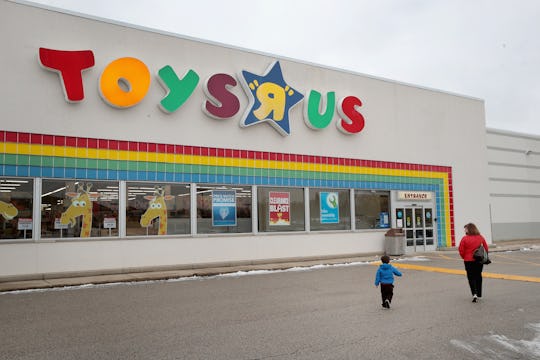 Scott Olson/Getty Images News/Getty Images
Use Your Toys "R" Us Points ASAP Because You Won't Be Able To In Just A Few Days
With Toys "R" Us getting rid of all its retail space in the United States, customers are scrambling to make the most of the store before it closes up shop for good. Because the Toys "R" Us rewards program is wrapping up soon — like, really soon — it's time to make the most of those points while you can. The store is seriously beginning to wind down already, so stock up on FurReal pets, toy cars, and bike accessories before those hard-earned points expire for good.
Points from the Toys "R" Us rewards program can be used until Wednesday, March 21, according to a Toys "R" Us representative, so anyone with points to spare needs to act fast. If you have some points in the bank at the moment, then you will need to convert them into a reward certificate in order to use the money toward qualifying Toys "R" Us or Babies "R" Us purchases. Basically, get these certificates ASAP. 125 points is worth $5 in "R" rewards, according to the Toys "R" Us website. Oh, and the points can be used either in-store or online, in case you don't live near one of the shuttering brick-and-mortar stores. Hey, you might as well turn those points into a few Tsum Tsums (or whatever your kid is into) before it's too late.
News of Toys "R" Us's decision to withdraw from all US retail space does not come as a total shock. Toys "R" Us filed for bankruptcy in September 2017, and the company's determination to keep 1,600 Toys "R" Us and Babies "R" Us brick-and-mortar stores open did not last long, according to Forbes. On March 15, 2018, Toys "R" Us officially announced its decision to liquidate inventory of all its 735 stores in the Unites States and Puerto Rico, according to the company's website. Plenty of people are sad to see this longstanding retail giant get phased out, but its time has come.
"I am very disappointed with the result, but we no longer have the financial support to continue the Company's U.S. operations. We are therefore implementing an orderly process to shutter our U.S. operations and will pursue going concern sales or reorganizations of certain of our international businesses, while our other international businesses consider their options," said Dave Brandon, chairman and chief executive officer, in the press release announcing Toys "R" Us's closings.
Like many other areas of shopping, competition from online stores and big box retailers cut into Toys "R" Us's profits. With toy sales coming fast and strong from Amazon, Walmart, and Target, Toys "R" Us was not able to keep up, according to NPR. (And really, many busy people would rather buy a toy from their phone or computer instead of schlepping all the way to a brick and mortar store, right? Especially when tiny kids are in tow.)
Does this mean your children will be forced to grow up in a world without Geoffrey the Giraffe? Not necessarily. For the time being, Toys "R" Us will continue operations in central Europe and Japan, and it looks to retain an online presence, according to the Washington Post. Still, nothing compares to the sheer sensory overload of being a kid inside this gigantic, seemingly endless room of toys. Maybe you'll get to make a pilgrimage to the nearest open store before it closes for good?
Whatever the future holds for Toys "R" Us, at least you'll have great stories to tell your kids about the toy store that had every doll, video game, and stuffed animal you could ever imagine. The store with the backwards "R" may one day be the stuff of legends.
Check out Romper's new video series, Bearing The Motherload, where disagreeing parents from different sides of an issue sit down with a mediator and talk about how to support (and not judge) each other's parenting perspectives. New episodes air Mondays on Facebook.