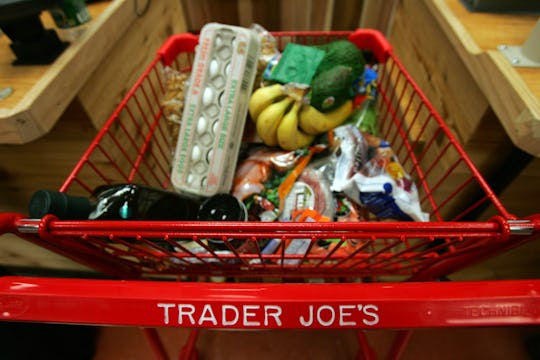 Michael Nagle/Getty Images News/Getty Images
Trader Joe's Listeria Recall Includes These Frozen Rice Products
Say it ain't so, Joe! Earlier this week Trader Joe's announced that the company had expanded its recent recall to include more items possibly contaminated with listeria. This comes on the heels of a May 3 recall for several frozen vegetables products. This is a real bummer if you, like me, are a big fan of the retailer's affordable and yummy products (cookie butter is totally bae). If you've been known to stock some of TJ's frozen meals, you might want to survey the contents of your freezer because Trader Joe's listeria recall now includes frozen Chicken and Vegetable fried rice.
Initially, Trader Joe's recalled several frozen vegetable items but since then, the grocer has included products from its popular prepared foods section as well. On Monday, Trader Joe's announced that it would be recalling its frozen Trader Joe's Vegetable Fried Rice, Trader Joe's Chicken Fried Rice as a part of a massive food recall due to one of their food supplier's factory experiencing a widespread listeria contamination.
TJ's recall is tied to countless others that have occurred this past month that can all be traced back to CRF Frozen Foods in Pasco, Washington. On May 2, CRF Foods voluntarily recalled all(!) of its frozen organic and traditional fruit and vegetable products manufactured in their facility since May 1, 2014 because they have the potential of containing Listeria monocytogenes.
Frozen vegetables initially recalled were any products tied to CRF Foods or any products that had expiration dates between April 26, 2016 and April 26, 2018. These items include Trader Joe's branded Organic Sweet Cut Corn, Organic Peas, Petite Peas, Organic Whole Green Beans, Organic Broccoli Florettes, and Organic Foursome.
Trader Joe's is also recalling its Broccoli Slaw & Kale Salad with White Chicken Meat, Sunflower Seeds, Cranberries, and a Sweet & Spicy Vinaigrette in certain states—California, Arizona, Utah, and Nevada—due to the sunflower seeds possibly being contaminated with listeria. The recalled salads have expiration dates between May 2 and May 7 (the fried rice recall includes any expiration date).
In a statement, Trader Joe's said all of the items have been removed from store shelves and destroyed (so you may have to search for your fried rice elsewhere for the time being). If you already bought one of them, the company said you should not eat any of the recalled products and urged consumers to either discard the items or return them to any Trader Joe's for a full refund. (Trader Joe's is known for having an awesome refund policy.)
According to a statement from the FDA, consumption of foods contaminated with Listeria monocytogenes can cause serious infections in the elderly, young children, and people with weakened immunity. Characterized by symptoms like high fever, aches, severe headache, nausea, muscle fatigue, and diarrhea, listeria can be fatal to more vulnerable populations. "Although healthy individuals may suffer only short-term symptoms," the statement read, "Listeria infection can cause miscarriages and stillbirths among pregnant women." So far, there have been no reported cases of anybody getting sick from eating the contaminated products (thank god).
Since Trader Joe's expanded its most recent recall, I wager this isn't the last frozen food recall we will see this month, as officials and retailers break down which products may have been produced using CRF Food's Listeria-contaminated items.