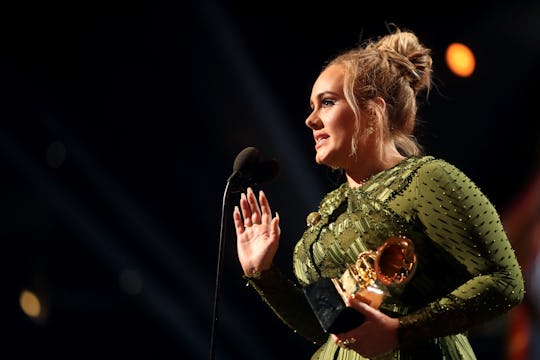 Christopher Polk/Getty Images Entertainment/Getty Images
Adele Honored Bey In A Beautiful, Touching Way
On a night filled with surprises, perhaps the biggest came when Adele accepted the award for Album of the Year. When the artist took to the stage where minutes earlier she'd just won for Song of the Year, she dedicated her award to the person she dubbed the rightful recipient: Beyoncé, and the transcript of Adele's tribute to Beyoncé shows how mighty a force it is when women not only support each other, but also when they encourage, empower, and stand up for one another — especially when the whole world is watching.
Just minutes before accepting the award, Adele brought us all to happy tears when she asked Queen Bey, point blank, if she would be her mommy — a question all of us have considered at one point or another, and one that some of us literally think about all day long, nonstop, day in and day out, every single time we are faced with the blissful reminder that we walk the same earth at the same time as Beyoncé does. (Not speaking from experience or anything, just like, I imagine this is what some people must feel, OK?) But when Adele returned to the stage to accept the honor for Album of the Year, the pace of the evening felt immediately different — and it was clear no one felt that more so than the night's biggest winner: Adele.
Instead of pretending that Lemonade didn't have the chops or the stamina to keep up with 25, Adele didn't mince words when it came to how she felt about the song and about the artist, entertainer, and all-around Goddess & Protector of Mother Earth. In a touching tribute to Beyoncé, Adele said:
Oh, thank you. Hi guys. Hi. Hi everyone. Hi! Hi! Hi! Hi! Um, as you can see, it took an army to make me strong and willing again, um, to do it, and I thank you all from the bottom of my heart. Five years ago when I was last here, um, I was so, I was pregnant and I didn't know, and I was awarded that — I found out shortly after, which was the biggest blessing of my life. Um, and in my pregnancy and through becoming a mother I lost a lot of myself and I've struggled. And I still do struggle being a mom, it's really hard.
Um, but, tonight, winning this kind of feels a bit full circle, and like a bit of me has come back to myself.
I can't possibly accept this award, and I'm very humbled and I'm very grateful and gracious. But my artist of my life is Beyoncé and this album for me — the Lemonade album — was just so monumental, Beyoncé, it was so monumental, and so... well thought out and soul bearing, and we all got to see another side to you that you don't always let us see and we appreciate that and all us artists here f*cking adore you. You are our light. And the way you make me and my friends feel — the way you make my black friends feel — is empowering, and you make them stand up for themselves and I love you. I always have, and I always will.
Grammys, I appreciate it. The Academy, I love you. My manager, my husband, and my son — you're the only reason I do it. Thank you so much. Thank you very much to everybody.
Though pitting Beyoncé and Adele against one another — both are two women with incredibly successful careers with deep bodies of work who speak to a number of different issues in their music and their songs — isn't the answer, on a night like tonight, in a world like the one we live in, it's wildly important that we remember that Adele used her moment to honor another woman when she could've just as easily turned a blind eye. It doesn't make it right, but it does make what Adele did absolutely unforgettable — and that's worth remembering.