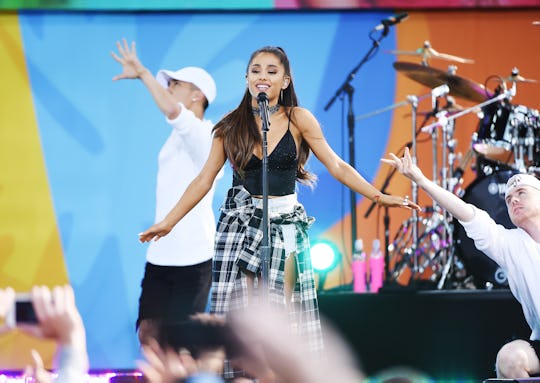 Nicholas Hunt/Getty Images Entertainment/Getty Images
Ariana Grande's Benefit Concert Speech Was Inspiring
In the face of panic and devastation, Ariana Grande and her fans have continued to stay strong. Less than two weeks after the bombing in Manchester, England outside of her concert, Grande returned to Manchester to give back to the victims of the attack through a concert, One Love Manchester, and show strength in the face of terror. During the show on Sunday, which featured a star-studded line up, Grande took the time to make a statement to fans — and Grande's benefit concert speech showed exactly why she, along with her fans, will not remain silent.
The Manchester attack on May 22 was absolutely devastating and unfathomable for many people. The attack, which happened right outside of the arena as the concert was wrapping up, claimed the lives of 22 fans, including young children and teenagers, and injured over 100 others. Shortly after the attack occurred, Grande suspended her tour and returned home to Florida — but later announced that she would be returning to Manchester to throw a benefit concert to raise money for the victims of the attack.
With a whole lineup of amazing performers, Grande's benefit concert was put on with the purpose to give back to the victims, allowing for anyone in attendance of her Manchester concert to attend the benefit show for free. So far, a fund in the victims' names, established by the Manchester city council and British Red Cross, has raised around $2.6 million; Grande's parent label, Universal Music Group, has already donated $500,000.
A few days after the attack, Grande released a statement, telling fans to remain strong. (The whole statement can be read in full on Twitter.)
"I am sorry for the pain and fear that you must be feeling and sorry for the trauma that you, too, must be experiencing," Grande wrote. "We will never be able to understand why events like this take place because it is not our nature, which is why we shouldn't recoil. We will not quit or operate in fear. We won't let this divide us. We won't let hate win."
Grande's speech at the benefit concert was similar in spirit as well, highlighting her reason for putting on the big show while paying homage to the victims first.
A full transcript of Grande's benefit concert statement can be found below:
Manchester. I want to thank y'all from the bottom of my heart for being here. I love you so so much. Thank you.
I want to thank you so much for coming together and being so loving and strong and unified. I love you so much and I think that the kind of love and unity that you're displaying is the medicine that the world really needs right now.
So I want to thank you for being just that. And I want to thank you for coming tonight. I love you so much. Thank you.
And I also want to say, I had the pleasure of meeting Olivia's mommy a few days ago and as soon as I met her I started crying and I gave her a big hug. And she said that I should stop crying, because "Olivia wouldn't have wanted me to cry," and then she told me that "Olivia would have wanted to hear the hits."
So with that being said, we have a totally different show planned than we had in rehearsal. We changed everything and this evening has been so great and so filled with fun and love and bright energy and I wanna thank you for that.
So thank you. I love you guys so much.