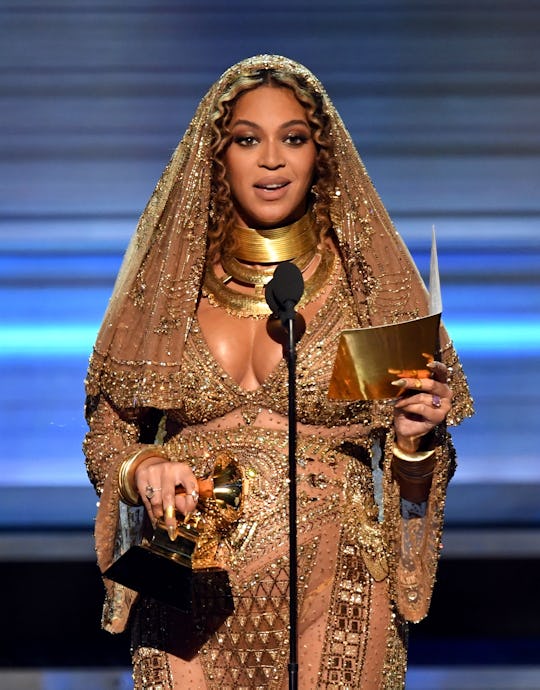 Kevin Winter/Getty Images Entertainment/Getty Images
Read Beyoncé's Inspiring Grammys Acceptance Speech
Sunday's Grammy Awards were officially a celebration of Beyoncé, if only unofficially, it seems. Not only did the artist stun with her performance at the 2017 Grammys, she also won for Best Urban Contemporary Album for Lemonade, and for Best Music Video early in the night, well ahead of her scheduled performance. The transcript of Beyoncé's acceptance speech for Best Urban Contemporary Album, however, is definitely worth reading, especially if you missed out on hearing it the first time.
When she stepped up to accept her award, dressed head to toe in glowing gold no less, Beyoncé read, from an equally gold-gilded notecard, the following:
Thank you so much. Thank you to the Grammy voters for this incredible honor and thank you to everyone who worked so hard to capture the profundity of deep Southern culture. I thank God for my family, my wonderful husband, my beautiful daughter, my fans for bringing me so much happiness and support.
We all experience pain and loss and often we become inaudible. My intention for the film and album was to create a body of work that would give a voice to our pain, our struggles, our darkness, and our history. To confront issues that make us uncomfortable. It's important to me to show images to my children that reflect their beauty, so they can grow up in a world where they look in the mirror, through their own families, the news, the Super Bowl, the Olympics, the White House, the Grammys, and see themselves and have no doubt that they're beautiful, intelligent, and capable. This is something I want for every child of every race and I feel it's vital that we learn from the past and recognize our tendencies to repeat our mistakes.
Thank you again for honoring Lemonade. Have a beautiful evening. Thank you for tonight.
It was a beautiful speech that honored Beyoncé's family and her fans, as well as the inspiration that went into creating Lemonade. She spoke to the message behind the album and its importance not only to her, but to everyone who so badly needed to hear its message. She acknowledged the struggles of everyone listening while at the same time providing a little bit of hope. Lemonade was an album that turned pain into art, and Beyoncé's acceptance speech mirrored that by reflecting on the past and looking to the future.
It was a deeply personal speech for an album that was clearly very close to Beyoncé's heart.