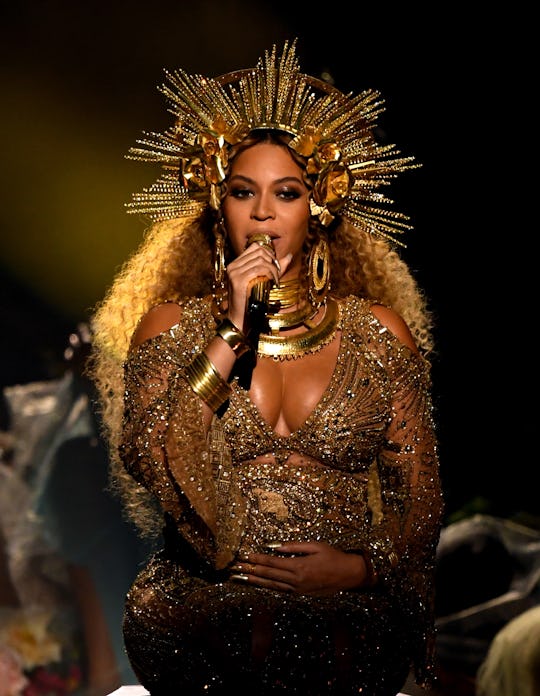 Kevin Winter/Getty Images Entertainment/Getty Images
Everyone Should Listen To Beyonce's Grammys Opener
Beyoncé's much-anticipated Grammys performance opened with a stunning, pre-taped visual component that was accompanied by excerpts of Warsan Shire's poetry, just like her visual album for Lemonade. The transcript of Beyoncé's Grammys opener revisited the text in stunning fashion, which took on new meaning, given that she performed while visibly pregnant.
The earth mother concept was heavily thematized in her performance, as Beyoncé played with imagery of the Madonna, wearing a golden veil over her head and prominently showcasing her baby bump in a gauzy, gold-sequined gown. She conspicuously cradled her belly for almost all of the performance, making crystal clear that she was making a statement about motherhood and child-bearing. Some images showed Blue Ivy running around her feet and others showed her as one of many in a tapestry of women and mothers. So it's no surprise that her opening focused on Warsan Shire's most matriarchal bits of text.
While all the pieces she used are also showcased on Lemonade, Beyoncé mixed up the excerpts in a way that doesn't reflect their order on the album, giving the most weight to lines that reflect on motherhood. The lines come from the album chapters "Forgiveness," "Accountability," "Anger," and "Reformation," respectively.
Here's the transcript of Beyoncé's Grammy's opener in full:
"Do you remember being born? Are you thankful for the hips that cracked? The deep velvet of your mother and her mother and her mother?
You look nothing like your mother. You look everything like your mother. You desperately want to look like her. How to wear your mother's lipstick. You must wear it like she wears disappointment on her face. Your mother is a woman and women like her cannot be contained.
I think of lovers as trees...growing to and from one another. Searching for the same light.
Why are you afraid of love? You think it's not possible for someone like you. But you are the love of my life."
Of course, she used more text as she performed another mini-concert of sorts comprised of tracks off Lemonade. But unlike her 2016 MTV VMAs performance, she chose to focus on her ballads at the Grammys. If the 2011 VMAs taught us anything, it's that Beyoncé has no trouble executing high-energy choreography flawlessly whilst heavily pregnant. But her subdued Grammys performance highlighted a new reverence for pregnancy. And even though she stuck with ambient ballads, the performance was not without drama. For example, she recreated the scene from Lemonade in which she tips all the way backwards while sitting in a straight-backed chair, which is more trust than most people would put in a technical feat. In the end and in the face of sky-high expectations, Beyoncé's performance was totally gorgeous.