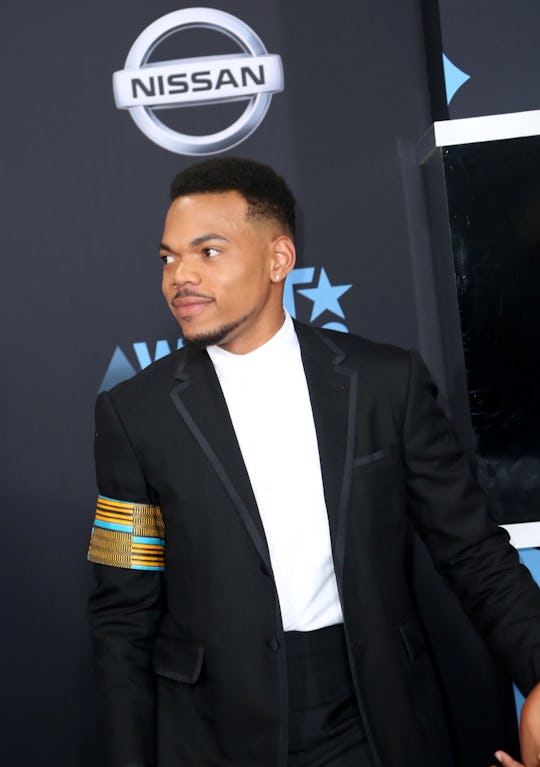 Maury Phillips/Getty Images Entertainment/Getty Images
Read Chance The Rapper's BET Humanitarian Award Speech
At Sunday night's BET Awards, one special artist was honored with a humanitarian award for his work assisting the public school system in his hometown of Chicago. Chance the Rapper's BET humanitarian award speech followed in the vein of similar statements on the contributions of young black Americans and the black artistic community from earlier in the evening. While brief, his comments nonetheless marked an important moment in an otherwise fraught era.
The 24-year-old rapper, who had won a Best New Artist award earlier in the evening, was presented the award by Chairman and CEO of BET Networks Debra Lee, following an emotional video message from former first lady Michelle Obama.
"Barack and I are so sorry that we cannot be there with you tonight in person, but please know that we are with you in spirit, and we are so incredibly proud of you, Chance," Mrs. Obama said. She continued,
We have known Chance and his family since he was a wee little baby rapper, and it has been a thrill watching him come into his own in so many ways. In addition to making some really amazing music, Chance has been taking that big bright spotlight that follows him around and he's shining it on our hometown of Chicago. Time and again he has been standing up, speaking out, and doing the work to get kids in our community the education they deserve.
Mrs. Obama was right: Aside from all his previous efforts to reduce gun violence in Chicago during the 2014 #SaveChicago campaign, which he promoted alongside his father and which won him Chicago's Outstanding Youth of the Year Award, Chance — who attended the ceremony with his mother — was honored on Sunday night for his specific efforts earlier in 2017 to help students by pledging $1 million to the Chicago Public School system. "This isn't about politics, this isn't about posturing. This is about taking care of the kids. Everybody and their momma knows about what's going on in Chicago, it's constantly talked about. But we're about to enhance the conversation," he said at the time.
A full transcript of Chance's remarks upon accepting the BET Humanitarian Award, which echoed his comments from March this year, can be found below.
Thanks — this is really heavy. [Laughter]
This is wildly overwhelming, I didn't think it was gonna be this crazy. I didn't prepare a speech, because I really wanted to see what would happen when I got up here and try and speak from the heart.
I'm 24. To be receiving something like this at my age it feels a little bit... it feels good as hell. [Crowd cheering] I love this. I love black people, y'all. Please, gas me up! Gas me! [Cheering]
I was gonna say, it feels a little early to get something like this, but my God doesn't make mistakes, and I like to think that he's putting this enormous pressure on me to see how I react. And I had plans originally to try and tell the world and everybody watching how to make it a better place. To tell everybody in this government that y'all need to let everybody out of jail for selling weed before you start making it legal for people to sell it and make capital off of it.
I was gonna tell the Chicago Public School System not to take out a loan from Chase Bank when they know that our schools are planning on failing in our district.
I was gonna tell those judges that we just need a conviction when you know these ------s wrong for doing this.
But my big homie [and childhood friend] Reese told me we gotta work on ourselves before we work can work on the world. So I wanna be a better father. I wanna be a better father to [my daughter] Kensli — I want to spend more time with her. I wanna be a better big cousin to Dejon, Dekwan, Dejay, Taja, um... [Laughter]. Who am I missing? Who am I missing? To Jaden, all of them.
I want to be more involved outside just my community of Chicago. I want to travel overseas and help out people all over the world. And like I said, being 24 and getting something like this, it doesn't feel deserved yet. But like I said — my God is putting the pressure on me so I can become who I'm supposed to be.
I'm a good man, and I'm gonna become a better man.
Thank you Ms. Lee, thank you BET, thank you black people, thank you mom. I love y'all.