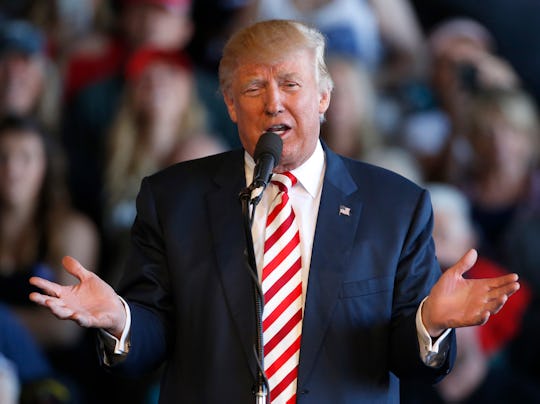 George Frey/Getty Images News/Getty Images
Transcript Of Donald Trump's Opening Statement At The Final Presidential Debate Says A Lot
The last presidential debate is finally here. All eyes were on Republican presidential candidate Donald Trump and Democratic candidate Hillary Clinton Wednesday night, as they took the stage in Las Vegas, Nevada to square off against one another for the last time before ballots are casts. The transcript of Donald Trump's opening statement at the final presidential debate shows that Trump had come prepared in this last debate.
The last few weeks have not been the nicest to Trump, after a video of him making comments about women's bodies — comments that essentially condone sexual assault — was released and published by The Washington Post. Since then, several accusations about Trump making unwanted advances towards women have surfaced. However, these allegations did not stop Trump from getting on the debate stage at the University of Nevada in Las Vegas. Unlike his previous two match ups with Clinton, Trump's preparation for this last debate, according to ABC News, was more "traditional," in that he actually did prepare to debate Clinton. Although he did continue to attend campaign rallies and talking to his supporters, Trump managed to make it through his opening statement without sniffling or fumbling or speaking emotionally. Unlike the second presidential debate, this debate was formatted like the first — Trump and Clinton were given time to answer questions from the debate's moderator, Fox News' Chris Wallace, and given time to refute their opponent.
During his opening statement in response to a question about the supreme court, it was clear that Trump's practice did pay off, although it's unclear as to how long he can keep calm and remain "presidential."
Read the full transcript of Trump's opening statement below:
Well first of all, it is great to be with you. Thank you everybody. The Supreme Court is what its all about. Our country is so — it is just so imperative we have the right justices something happened recently where justice Ginsberg made some inappropriate comments towards me and towards a tremendous number of people many many millions of people that I represent. And she was forced to apologize. And apologize, she did. But these were statements that should have never, ever been made. We need a Supreme Court that in my opinion is going to uphold the Second Amendment and all amendments — but the second amendment, which is under absolute siege. I believe if my opponent will win this race, which I truly don't think will happen, uh we will have a second amendment which will be a very, very small replica of what is right now.
But I feel that it is absolutely important that we uphold because of the fact that it is under such trauma. I feel that the justices that I am going to appoint — and I've named 20 of them. The justices that I'm going to appoint are going to be pro-life. They will have a conservative bent. They will be protecting the Second Amendment. They are great scholars in all cases and they are people of tremendous respect. They will interpret the constitution the way the founders wanted it interpreted — and I believe that is very, very important. I don't think we have justices appointed that decide what they want to hear. It's all about the Constitution of of — and so important — the constitution the way it was meant to be. And those are the people I will appoint.