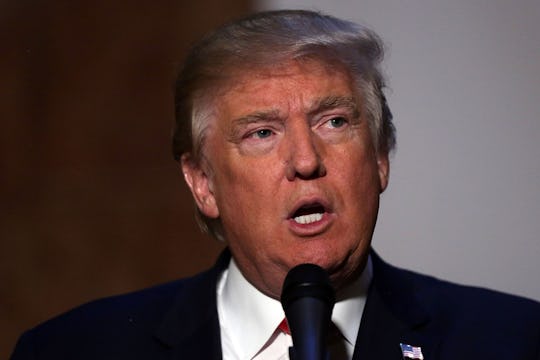 Transcript Of Donald Trump's 'SNL' Monologue With Taran Killam and Darrell Hammond, In Which He Played Himself (But Not As Well As They Did)
As any past Saturday Night Live host would probably tell you, their opening monologue is one of the toughest parts of their hosting duties. Those who do comedy for a living do well, of course, but politicians often struggle to balance humor, irreverence, and their usual campaign talking points. Donald Trump has plenty of personality — and that certainly came through in his initial moments in front of the SNL audience on Nov. 7 — and as the transcript of Trump's Saturday Night Live monologue shows, he followed the script... even if he doesn't play Trump quite as well as Taran Killam and Darrell Hammond, who both showed up for the monologue. Read how it went down below:
Trump: Thank you very much. It's wonderful to be here. I will tell you this is going to be something special. Many of the greats have hosted, as you know, this show — like me, in 2004. A lot of people are saying, "Donald, you're the most amazing guy. You're brilliant, you're handsome, you're rich, you have everything going, the world is waiting for you to be president, so why are you hosting Saturday Night Live? Why?"
And the answer is, I have really nothing better to do. People think I'm controversial, but the truth is, I'm a nice guy. I don't hold grudges against anybody. Like Rosie O'Donnell. She said some things about me that were hurtful and untrue. I said some thing about her that were mean, but completely accurate. The fact is, when I showed up for rehearsal, Rosie was here to support me. Come on out Rosie!
Aidy Bryant: Sir, as I have told you several times, my name is Aidy Bryant and I'm a cast member on this show. 
Trump: Isn't she great? She just seems like really a totally different person. Part of the reason I'm here is that I know how to take a joke. They've done so much to ridicule me over the years. This show has been a disaster for me. Look at this guy. 
Taran Killan [as Trump]: Great, great, great, great, great. Isn't he fantastic? I gotta say, you're doing a great job. In fact, I think this show just got better by two billion percent. In fact, they just told me, Donald — they just told me is very interesting — now that I'm here, this is now the best monologue in SNL history. Can you believve that? Pretty great.
Trump: That's pretty great. That's pretty good. Oy, yoy yoy, look at this. 
Darrell Hammond [as Trump]: You think you're this terrific person. You think you're this, you think you're that, ba ba ba. You're being very naive, and, quite frankly, you're fired.
Trump: They're great. They don't have my talent, my money, or especially my good looks. But you know what? They're not bad. And we're going to have a lot of fun tonight. 
[Off-stage]: You're a racist!
Trump: Who the hell is — I knew this was going to happen. Who is that?
Larry David: Trump's a racist!
Trump: It's Larry David. What are you doing Larry?
Larry David: I heard if I yelled that, they'd give me $5,000 dollars. 
Trump: As a businessman, I can fully respect that. That's okay. We have got a great show tonight. Sia is here, so stick around. We'll be right back. 
No matter what you might think of his politics, anyone following Trump's presidential bid would agree that the he has a sense of humor. I mean, who could forget the hilarious skit Trump did with Jimmy Fallon where the candidate managed to interview himself? And then there was the time in the third debate when Trump nailed Ohio Gov. John Kasich for falling behind in the polls: "His poll numbers tanked. That is why he is on the end. He got nasty, so you know what? You can have him."
But what Trump showed in his opening monologue was that he's a pro at being himself. But, really, others do it better. 
Image: Spencer Platt/Getty Images