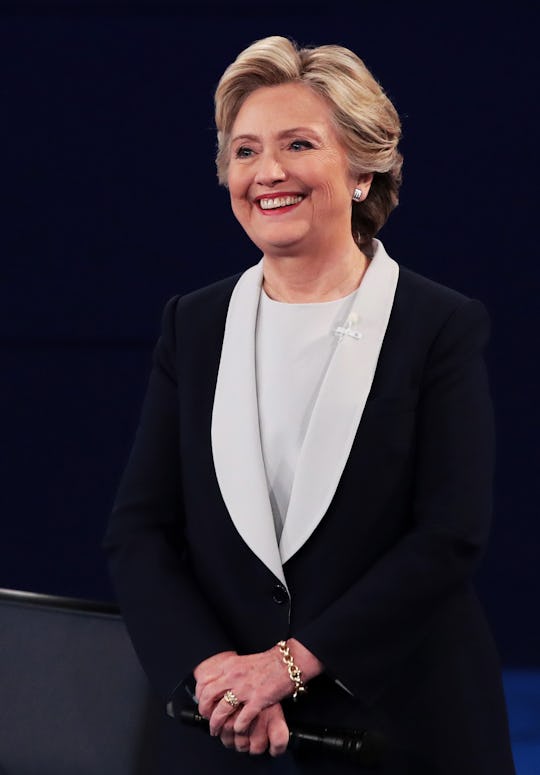 Scott Olson/Getty Images News/Getty Images
Transcript Of Hillary Clinton's Closing Statement At Second Debate Shows Clear Poise
Democratic presidential nominee Hillary Clinton managed to finish off the first presidential debate with a landslide victory after a long evening of increasingly severe political bickering. While Republican presidential nominee Donald Trump and his supporters claimed otherwise, the vast majority of scientific polls based on random samples of debate viewers found Clinton to be victorious. After one of the worst weeks of Trump's campaign, the stakes truly were high for the Republican nominee going into Sunday night's town hall-style debate. New York Magazine reported that Trump's preparation for the second presidential debate was going poorly and he was planning on winging it, much like his turn at Hofstra University. Luckily for his opponent, Clinton has a history of taking the opposite approach and vigorously preparing for her public appearances, and after Clinton's closing statement at the second presidential debate, it was clear that she was able to go high when Trump went low.
The closing statements made by each candidate are, perhaps, one of the most vital aspects of the presidential debates. They allow the candidates to speak, uninterrupted, to the voters both in the audience and watching at home. The town hall style of the second debate added even more weight to each candidate's closing remarks. The audience on Sunday night was full of undecided voters asking the candidates thoughtful questions about a broad range of topics that matter to them. At the end of the debate, both Clinton and Trump had an opportunity to show how well they listened to the audience and how they planned to serve its members as the next Commander in Chief.
While Trumps closing remarks were unfortunately on brand, Clinton's demonstrated her ability to remain cool, calm, and collected in the face of adversity. Despite relentless attacks on her public demeanor and family life (specifically her husband's numerous alleged controversies) throughout the night, Clinton never let it stop her from comprehensively discussing her policy plans and vision for America's future. In her closing remarks, Clinton was able to hang onto that poise.
Below is a full transcript of Clinton's closing remarks at the second presidential debate:
I believe that this election has become in part so conflict oriented, so intense because there's a lot at stake. This is not an ordinary time. This is not an ordinary election. We are going to be choosing a president who will set policy for — not just four or eight years, but because of some of the important decisions we have to make here at home and around the world, from the Supreme Court, to energy, and so much else — so there is a lot at stake. It's one of the most consequential elections we have had. And that is why I have tried to put forth specific policies and plans, trying to get it off of the personal and put it on to what it is I want to do as president. And that is why I hope people will check on that for themselves so they can see, yes, I have spent 30 years — actually, maybe little more, working to help kids and families and I want to take that experience to the white house and do that every single day.
There's only more debate left before election day. No matter what happens in the following days, it's a safe bet that Clinton will be just as prepared for the next and final campaign showdown as she was for both the first and second debates of this election.