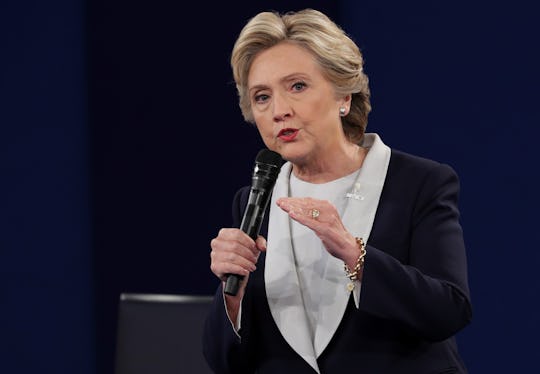 Chip Somodevilla/Getty Images News/Getty Images
Transcript Of Hillary Clinton's Opening Statement At The Second Presidential Debate
Democratic presidential nominee Hillary Clinton and Republican candidate Donald Trump took the stage at Washington University in St. Louis, Missouri on Sunday night for the second presidential debate. Considering that most national polls saw Clinton entering the debate several points ahead of her rival, and that Trump spent the weekend drawing criticism for his 2005 comments about women, most viewers expected Clinton to be at the top of her game. They weren't wrong — a transcript of Clinton's opening statement at the second debate reveals a woman who felt 100 percent in control of the night when the debate opened.
There was plenty of tension before the candidates took the debate stage, of course. After footage emerged of Trump making questionable comments about women in 2005, he renewed his attack on Clinton's husband, former president Bill Clinton, and it seemed like a topic he might bring up during the second presidential debate (especially once he launched a press conference about it). According to Wired, both candidates could also safely anticipate questions related to gun control, Social Security, climate change, and campaign finance reform (a topic that Clinton's drawn fire for in the past).
Still, despite the possible threat of questions on her husband's cheating scandal or her campaign financing, Clinton didn't seem too worried. She walked out onto the stage smiling, shook hands, and stood prepared.
In her opening statement, answering an audience member who asked if Clinton believed she was modeling appropriate behavior for today's youth, Clinton said:
Thank you. Are you a teacher? Yes, I think that that's a very good question, because I've heard from lots of teachers and parents about some of their concerns about some of the things that are being said in this campaign, and I think it is very important for us to make clear to our children that our country really is great because we're good, and we are going to respect one another, lift each other up. We are going to be looking for ways to celebrate our diversity, and we are going to try to reach out to every boy and girl, as well as every adult, to bring them in to working on behalf of our country. I have a very positive and optimistic view about what we can do together. That's why the slogan of my campaign is "stronger together." Because I think if we work together, if we overcome the divisiveness that sometimes sets Americans against one another, and instead we make some big goals — and I've set forth some big goals; getting the economy to work for everyone, not just those at the top, making sure that we have the best education system, from pre-school through college, and making it affordable, and so much else. If we set those goals and we go together to try and achieve them, there's nothing, in my opinion, that America can't do. So that's why I hope that we will come together in this campaign. Obviously, I'm hoping to earn your vote, I'm hoping to be elected in November, and I can promise you I will work with every American. I want to be the president for all Americans, regardless of your political beliefs, where you come from, what you look like, your religion. I want us to heal our country and bring it together, because that's, I think, the best way for us to get the future that our children and our grandchildren deserve.
It was an uplifting — and solid — start to her night. Here's to seeing how Clinton tackles the rest of the night.