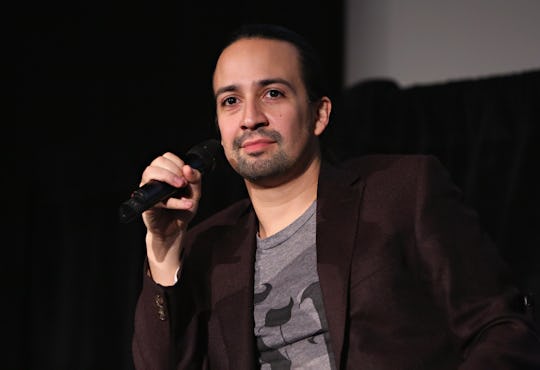 Cindy Ord/Getty Images Entertainment
Transcript Of Lin Manuel Miranda's 'Hamilton' Grammys Acceptance Speech Is Too Awesome
To seriously no one's surprise, Hamilton won the 2016 Grammy for Best Musical Theater Album on Monday night. Sure, getting the award was cool, but the coolest part of the whole thing was Lin Manuel Miranda's acceptance speech, which he delivered in rap form. Yes, it was as cool as it sounds. Transcript of Lin Manuel Miranda's Hamilton Grammy's acceptance speech is just too damn cool.
Because Miranda was rapping so quickly and was difficult to hear at times, I've included excerpts of the rap that were audible. Some of the names are not included because they were difficult to hear. But these excerpts from his speech get the point across and show just why Miranda's acceptance speech just won't ever be topped by anyone in Grammys' history:
We write music, we write songs to tell a story
Whether they're King, Kendrick, or Jeanine Tesori
I'm sorry if I start screaming these thanks hysterically
Of course, these snippets don't capture the dozens of names that Miranda rattled of in such a short amount of time, but they do capture his general badassery (I'm making that a word). Here's another amazing few lines:
The cast unstoppable, band is unbeatable, inimitable, inevitable
Always inspiring me to pull through
Vanessa, Angie, Illie, Ellie, we adore you
Sebastian, daddy's bringing home a Grammy for you
Only full video of Miranda's rap truly captures the brilliance of the speech.
And Twitter was seriously in awe of the moment. Not only did Miranda manage to deliver a not-boring acceptance speech, but he got through everything he wanted to say without the dreaded "wrap it up" music playing. Bravo, Miranda.
Some even predicted it would happen, and I'm seriously glad they were right.
Well, we know that no one will ever take Miranda's Best Acceptance Speech award from him.