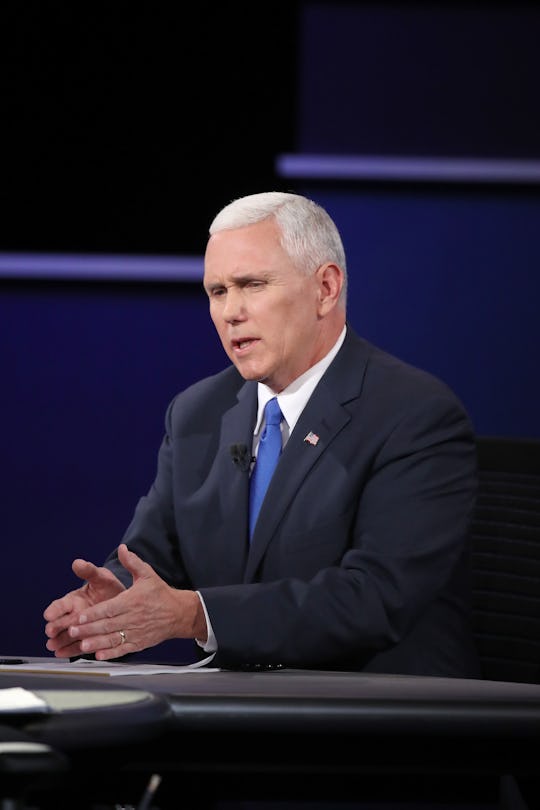 Mark Wilson/Getty Images News/Getty Images
Transcript Of Mike Pence's Opening Statement Shows He Was Prepared
For the first time ever, Indiana Gov. Mike Pence and Virginia Sen. Tim Kaine appeared on stage together for the vice presidential debate at Longwood University in Farmville, Virginia. The vice presidential candidates got their chance to be in the spotlight. The debate got off to a pretty great start which was made clear by the transcript of Mike Pence's opening statement, which proved that he had come to the debate to win.
Pence's Republican Party running mate, Donald Trump, reportedly did not spend too much time preparing for his first debate against Democratic Party presidential candidate Hillary Clinton — to some viewers, that showed on the debate stage, too. But Pence was was taking his preparation a little more seriously. According to ABC News, Pence told talk show host Hugh Hewitt he was doing a "little preparation" for the debate and prepare in a "little bit more traditional" aspect than Trump. According to CNN, Pence had been preparing for the vice presidential debate since he joined the Republican ticket in July (woah) and has been "studying binders of material." Pence's preparation also included practice debates, using Florida Gov. Scott Walker as a stand in for Kaine.
His preparation showed, as Pence came out with a strong and solid opening statement when Pence was asked about presidential leadership in a time of tragedy and what qualified him to step into the role of President of the United States. However, Pence's opening statement did not come without a gaffe — Pence accidentally thanked Norwood University instead of Longwood University, where the debate was hosted, during his opening statement, according to NPR.
A full transcript of Pence's statements can be read below:
First off, thank you Elaine and thank you to Norwood University for their wonderful hospitality and the Commission on Presidential Debates. It is deeply an honor for me to be here, to be surrounded by my wonderful family. And Sen. Kaine, it is simply an honor to be here with you as well. And I just want to say thanks to everyone that is watching tonight, who understands what an enormously important time it is in the life of our nation.
For the last seven-and-a-half years, we've seen America's place in the world weakened, with an economy stifled by more taxes, and regulation, and a war on coal, and failing healthcare reform known as Obamacare. The American people know that we need a change.
I want to thank you all for being here tonight. I also want to thank Donald Trump for making that call and inviting us to be a part of his ticket. I have to tell you, I'm a small town boy from a place not too different from Farmville. I grew up with a cornfield in my backyard. My grandfather immigrated to this country when he was about my son's age. My mom and dad built everything that matters in a small town in southern Indiana. They built a family and a good name and a business. And they raised a family.
I dreamed some day of representing my hometown in Washington D.C., but honestly, Elaine, I never imagined, never imagined I would have this opportunity to be the governor of the state that I love, let alone sitting at a table like this, in this kind of position. So, to answer your question, I would say I would hope that if the responsibility ever fell to me in this role, that I would meet it with the way that I'm going to meet the responsibility should I be elected Vice President of the United States. And that's to bring a lifetime of experience, a lifetime growing up in a small town. A lifetime where I've served in the Congress of the United States, where I've led a state that works, in the great state of Indiana. And whatever other responsibilities might follow from this, I would hope — and frankly I would pray — to be able to meet that moment with that lifetime of experience.
In the end, though public reviews and political analysts were mixed on who actually came out the victor following Tuesday's vice presidential debate, one thing was clear — Mike Pence knew exactly what he was doing, and he pulled it off without a hitch.