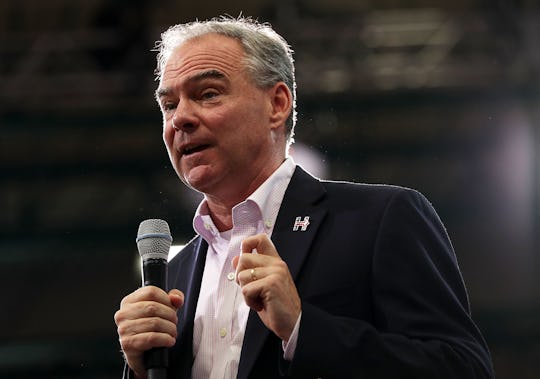 Alex Wong/Getty Images News/Getty Images
Transcript Of Tim Kaine's Closing Statement Focused On His & Hillary Clinton's Experience
To close out the one and only debate between the candidates for vice-president, Hillary Clinton's running mate didn't attempt any big theatrics, but instead drove home the main points about what Clinton hopes to accomplish by unifying the country during her potential presidency while claiming Donald Trump is unfit for the same role. As the transcript of Tim Kaine's closing statement illustrates, that was an effective way to readdress some significant issues while also allowing some genuine concerns about Trump to linger on viewers' minds.
Going into the night, few expected the affable Kaine was going to throw any major curve balls during the debate. As an experienced politician who has held every office from mayor to governor to senator, it wasn't Kaine's first debate—which meant it was going to be difficult to rattle him. On that level, he proved to be a solid spokesperson for Clinton.
Still, he managed to direct a few strong criticisms at his opponent, Mike Pence, who had to go on the defensive for Trump throughout the night. In doing so, Kaine allowed many of the potential voters watching at home to get their first good glimpse of who he is an an individual. That also led to Kaine and Pence speaking over each other multiple times during the night, so it was a positive change when each candidate had the opportunity during his closing statement to speak uninterrupted.
Here is what Kaine said during his closing statement at the vice presidential debate, which was a response to a question about his plans to unify the country...
It has been a divisive campaign. And, again, Hillary is running a campaign about 'Stronger Together.' And Donald Trump ... has run a campaign that's been about one insult after the next. But we do have to bring the country together. So here's what we'll do: Hillary Clinton was first lady, then senator for eight years and secretary of state. And I served in the senate.
I'm really amazed, Elaine, as I talk to Republican senators how well they regard and respect Hillary Clinton. She was on the armed services committee, she was on other committees. She worked across the aisle when she was first lady to get the CHIP program passed so that eight million low-income kids have health insurance in this country, including 150,000 in Indiana. She worked across the aisle after 9/11 to get health benefits for the first responders who bravely went into the towers and into the pentagon. She worked to get TRICARE benefits for National Guard members, including Hoosiers and Virginians in the National Guard. She has a track record of working across the aisle to make things happen.
I have the same track record. I was a governor of Virginia with two Republican houses. And, in the senate, I have good working relationships across the aisle because I think it's fine to be a Democrat or Republican or Independent. But, after election day, the goal is to work together. And Hillary Clinton has a track record of just that that will enable her to work with the new Congress in January.
With his powerful, direct closing statement, he put a nice bow on what many are already calling a good night for the Democratic ticket.