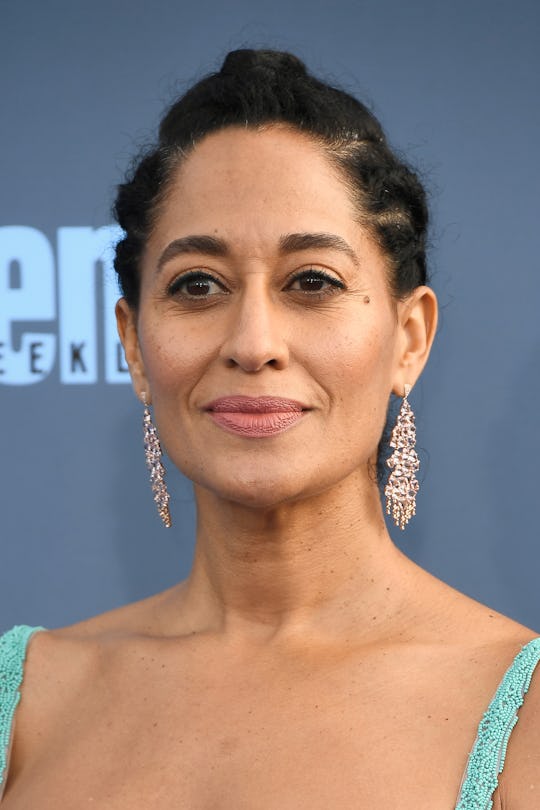 Frazer Harrison/Getty Images Entertainment/Getty Images
Tracee Ellis Ross' Golden Globes Speech Is Vital
The 2017 Annual Golden Globe Awards is arguably the most diverse the award show has ever been. In almost every category there was at least one person of color nominated, and in the category for Best Performance by an Actress in a Television Series - Musical or Comedy there were three. In the end Black-ish's Tracee Ellis Ross' took home the award and her acceptance speech was just as inspiring as fans imagined it would be. Check out the full transcript of Tracee Ellis Ross' Inspiring Golden Globes speech, below.
Oh my goodness, thank you Hollywood Foreign Press Association. Thank you!
It's my first time here, guys. It's a nice room. I like it. This is for all of the women, women of color, and colorful people whose stories, ideas, thoughts are not always considered worthy and valid and important. But I want you to know that I see you, we see you.
It is an honor to be on this show, Black-ish. To continue expanding the way we're seen and known. And to show the magic and the beauty and the sameness of a story and stories that are outside where the industry usually looks.
Kenya, thank you for this amazing opportunity. ABC. Anthony, you are the most wonderful TV husband ever. I don't have children but Marcus, Yara, Miles, and Marsai. Oh my goodness! I have to say thank you to my mom and dad and my siblings, Rhonda, Chudney, Ross, and Evan. I don't know who else there is, other than all the amazing people that have brought here in my career because it's nice at 44. I like it here. This is great! Thank you!
This was the actress' first Golden Globe nomination and she totally deserved the win. Ross has been working in television since she starred on the show Girlfriends back in the early 2000s. Since then she's appeared and starred in various TV shows until she found the perfect role on Black-ish. The show, which is now on it's third season, has touched and inspired millions of people while also making them laugh. Touching on tough topics like Black Lives Matter and microagressions, the show also presents a caring and loving family that always keeps it real.
Ross' speech proved to be as touching to viewers as it was to the Golden Globes audience. Here are just a few of the many overwhelming responses to her powerful words, via Twitter:
Ross is funny and smart as mother and doctor Rainbow Johnson on Black-ish and it's no surprise that she walked away with the award. Congrats, Ross!