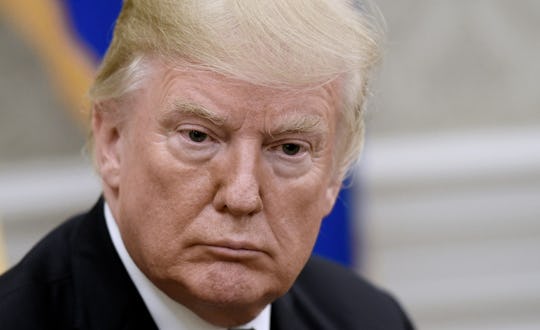 Pool/Getty Images News/Getty Images
Transcript Of Trump's Las Vegas Response Shows It Was Measured, But Lacking
On Monday, President Donald Trump gave a statement on the horrific mass shooting that took place in Las Vegas, Nevada on Sunday night. As America's citizens tried to make sense of the violence, people were also wondering what Trump would say about the shooting that left at least 58 dead and more than 400 people injured, according to CNN. Although Trump addressed the "grieving families" affected by the shooting, Trump's response to the Las Vegas massacre was lacking for many.
Update: As of 6 p.m. ET on Monday, Oct. 2, CNN reports that 59 people have died and over 500 people were injured. Authorities say the suspect had 18 additional firearms, explosives and several thousand rounds of ammo at his home in Mesquite, NV.
After a national tragedy occurs, citizens look to the president for guidance and assurance. Following the mass shooting at Sandy Hook Elementary School in Newtown, Connecticut, in which 20 children were fatally shot, President Barack Obama addressed America's problem with gun violence at a prayer vigil for victims of the shooting. Obama said at the vigil, according to The Washington Post:
Can we honestly say that we're doing enough to keep our children, all of them, safe from harm? ... I've been reflecting on this the last few days, and if we're honest with ourselves, the answer's no. We're not doing enough. And we will have to change. Since I've been president, this is the fourth time we have come together to comfort a grieving community torn apart by mass shootings, fourth time we've hugged survivors, the fourth time we've consoled the families of victims.
When you compare Obama's statements about Newtown to Trump's statement on Las Vegas, it's difficult not to see the glaring differences between the two. Of course, it's important to note here that Trump's Las Vegas statement was arguably the most measured response he has ever given as POTUS. In light of Trump's offensive response to the white nationalists in Charlottesville, Virginia, and his ongoing battle with the mayor of San Juan, Puerto Rico, the transcript of Trump's Las Vegas address is uncharacteristically focused. Throughout the transcript, Trump's message repeatedly mentions God and the scripture, and Trump also made a point to discuss America's need for unity during this "very dark period."
Although Trump's Las Vegas address did hit the mark when he thanked the Las Vegas Metropolitan Police Department and first responders, among other things, his message fell short in two major ways.
For one, Trump didn't address America's ongoing crisis with gun violence and mass shootings. In fact, Trump didn't use the term "mass shooting" when he discussed what occurred at the Route 91 Harvest Festival on Sunday night. As expected, some people will argue that America must have time to grieve and reflect before a discussion about gun control can take place, but that argument rings hollow when you consider how many mass shootings the country has witnessed over the past decade. It's important to call the tragedy in Las Vegas exactly what it is — a mass shooting. America will only be able to make progress with gun control when it's able to confront the grim reality that has been unfolding in this country for decades.
Secondly, Trump did not refer to the shooter as a terrorist, nor did he refer to the shooting as an act of terrorism. Instead, Trump referred to the shooting as an "act of pure evil." Of course, there's no denying that the actions of the shooter were evil — but one has to ask — why didn't Trump label the tragedy as an act of terrorism?
According to Newsweek, an act of terrorism in Nevada is defined as "any act that involves the use or attempted use of sabotage, coercion or violence which is intended to cause great bodily harm or death to the general population." If you apply this definition to the shooting in Las Vegas, it's difficult to understand why more news outlets, and Trump, won't refer to the shooting as an act of terrorism. Trump's choice not to refer to the shooter as a terrorist is especially confusing when you consider he was quick to call the September attack in the London Underground as "another attack in London by a loser terrorist," according to CNN.
Here's the full transcript of Trump's Las Vegas address:
My fellow Americans,
We are joined together today in sadness, shock, and grief. Last night a gunman opened fire on a large crowd at a country music concert in Las Vegas Nevada. He brutally murdered more than 50 people and wounded more than hundreds more. It was an act of pure evil. The FBI and the Department of Homeland Security are working closely with local authorities to assist with the investigation and they will provide updates as to the investigation and how it develops.
I want to thank the Las Vegas Metropolitan Police Department and all of the first responders for their courageous efforts and for helping to save the lives of so many. The speed with which they acted is miraculous and prevented further loss of life. To have found the shooter so quickly after the first shots were fired is something for which we will always be thankful and grateful. It shows what true professionalism is all about. Hundreds of our fellow citizens are now mourning the sudden loss of a loved one: a parent, a child, a brother or sister. We cannot fathom their pain, we cannot imagine their loss.
To the families of the victims: we are praying for you, and we are here for you. And we ask God to help see you through this very dark period. Scripture teaches us that the Lord is close to the brokenhearted and saves those who are crushed in spirit. We seek comfort in those words, for we know that God lives in the hearts of those who grieve.
To the wounded who are now recovering in hospitals: we are praying for your full and speed recovery, and pledge to you our support from this day forward.
In memory of the fallen I have directed that our great flag be flown at half-staff. I will be visiting Las Vegas on Wednesday to meet with law enforcement, first responders, and the families of the victims. In moments of tragedy and horror, America comes together as one. And it always has. We call upon the bonds that unites us: our faith, our family, and our shared values. We call upon the bonds of citizenship, the ties of community, and the comfort of our common humanity. Our unity cannot be shattered by evil, our bonds cannot be broken by violence, and though we feel such great anger at the senseless murder of our fellow citizens, it is our love that defines us today. And always will, forever.
In times such as these, I know we're searching for some kind of meaning in the chaos. Some kind of light, in the darkness. The answers do not come easy. But we can take solace knowing that even the darkest space can be brightened by a single light, and even the most terrible despair can be illuminated by a single ray of hope.
Melania and I are praying for every American who has been hurt, wounded, or who has lost ones they love so dearly in this terrible, terrible, attack. We pray for the entire nation to find unity and peace, and we pray for the day for when evil is banished and the innocent are safe from hatred and from fear. May God bless the souls of the lives that are lost. May God give us the grace of healing, and may God provide the grieving families with strength to carry on. Thank you, and God bless America. Thank you.
Following Trump's Las Vegas address, some people commended him for his calculated and seemingly thoughtful response. Although Trump did deliver a coherent message, which is arguably a first, citizens should reflect on the failings of his remarks, too. Point blank: the tragedy in Las Vegas is reportedly the deadliest mass shooting in modern American history and was an act of domestic terrorism.