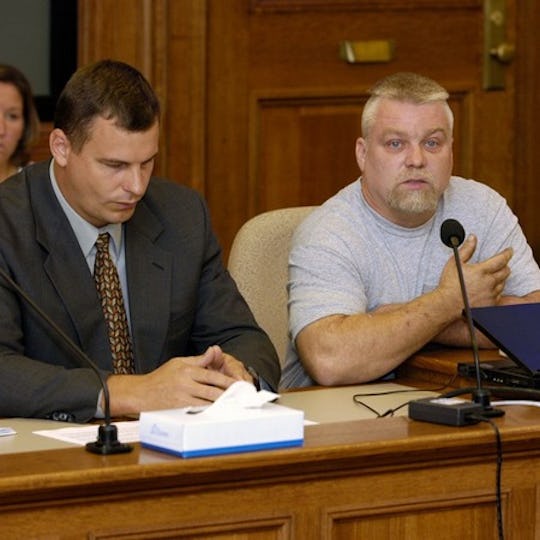 Making a Murderer/Netflix
Transcripts From Steven Avery's Case Are Online & 'Making A Murderer' Fans Need To Check Them Out
The controversial case at the center of the incredibly popular Netflix documentary Making A Murderer has left viewers wanting answers about what really happened during Steven Avery's trial for the murder of photographer Teresa Halbach. And those who are looking to make their own minds up about the validity of the trial can now read transcripts of Steven Avery and Dassey trials online via Reddit. Opinions run the gamut on both sides of the Avery case: an Internet petition to pardon Avery is 250k+ signatures strong, according to Entertainment Tonight, while others, according to Vogue, have wondered if the documentary might be swaying public opinion in favor of the accused murderer. And, after reading the transcripts, you can decide which opinion you agree with most. (Good luck coming up with a concrete conclusion, though — as any viewer knows, this is quite a complex case.)
UPDATE: Two of the individuals working to make all of the Steven Avery court documents available publicly on Reddit, contacted Romper to detail their efforts and clarify some details. They accurately noted that although some of the Avery trial court documents (as well as the Dassey trial transcripts) are publicly accessible as mentioned in the article, the Avery trial transcripts are not available online, nor are all the documents from Avery's case file, including evidence exhibits. Copies of the Avery trial transcripts can be obtained from the Manitowoc County Clerk of Courts, although since the fees involved can run as high as $9,000, the Reddit group has organized a crowdfunding campaign to raise money to get them online. For more details, or to contribute, visit the campaign website.
So what do the transcripts include? The lengthy roundup includes documents that appear to be copies of phone conversations and meetings, evidence photos, a jury questionnaire, search warrants, and a complete transcript of the Dassey trial. Other useful (yet unofficial) documents — like timelines and a who's who list of the people involved compiled from news articles and interviews — is also included.
The Reddit user behind the thread, who goes by the username PonchoTheCat, claims that a number of the documents were sourced from Manitowoc County courts and via the Public Access to Court Electronic Records (PACER) website, while other links and documents were aggregated from existing links already on Reddit. It doesn't appear that the full transcript load of the Avery case has been comprehensively released to the public, but the documents that do exist have definitely led to much speculation from viewers about whether or not justice was served (for either Avery, Dassey, or Halbach) in the case.
And as the interest in the show continues to grow, it seems inevitable that it's going to continue.
Image: Making a Murderer/Netflix