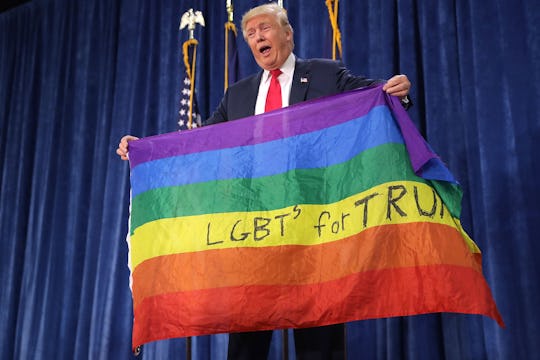 Chip Somodevilla/Getty Images News/Getty Images
Transgender Service Members Are Suing Trump For The Military Ban
On Wednesday, two LGBTQ advocacy organizations clapped back in a major way at President Trump's decision to ban transgender service members from the military. Transgender service members are now suing Trump over his proposed military ban, arguing that the policy is unconstitutional and could cost them their careers. Here's everything we currently know about the lawsuit.
First off, it's important to note that Trump's transgender military ban hasn't actually been implemented yet. The president announced the move somewhat surprisingly on Twitter on July 26, writing in a series of tweets:
After consultation with my Generals and military experts, please be advised that the United States Government will not accept or allow ... Transgender individuals to serve in any capacity in the U.S. Military. Our military must be focused on decisive and overwhelming ... victory and cannot be burdened with the tremendous medical costs and disruption that transgender in the military would entail. Thank you.
If Trump's plan were to be formally implemented, it would reverse an Obama era policy — approved by the Department of Defense in June 2016 — that allowed transgender service members to serve openly. According to Vox, U.S. Joint Chiefs of Staff said there would be no change in policy until the president issued formal guidance, but lawyers representing the transgender service members said the tweets alone had caused enough damage.
"Trump's directive to exclude transgender people from military service has created a tidal wave of harms that have already been felt throughout our armed services," Shannon Minter, the legal director at the National Center for Lesbian Rights, said in a statement. "Transgender service members have been blindsided by this shift and are scrambling to deal with what it means for their futures and their families."
If the NCLR and GLBTQ Legal Advocates & Defenders — the two organizations taking Trump to court over his ban — have their way, a federal court in Washington would ban Trump's court before it ever has the chance to be implemented.
So how likely is this lawsuit to win in court? According to John Culhane, a constitutional law professor at Delaware Law School, Trump could run into a fair share of trouble with his ban.
"The Trump administration may soon learn that singling out a class of people for exclusion violates the constitutional guarantee of equal protection under the law," Culhane recently wrote in an op-ed for Politico. "Distinctions based on race, religion and gender, for instance, are considered 'suspect,' and will be upheld only if there's a strong justification."
Still, that doesn't mean the lawsuits will be easy to win. Attorney and Yale Law School professor Eugene Fidell recently told The San Francisco Chronicle that advocacy groups could face some serious challenges in court, due to the nature of military law. "The government has very broad discretion in this area, and federal courts are extraordinarily deferential to governmental decision-making on military policy," he said.
Regardless, it's clear that advocacy groups will press forward in court. According to The New York Times, estimates put the number of transgender soldiers in the U.S. military at somewhere between 2,000 and 15,000. That's a lot of lives that could potentially be derailed if this military ban goes through, so it's safe to say a lot of eyes will be on this court case as it moves forward.