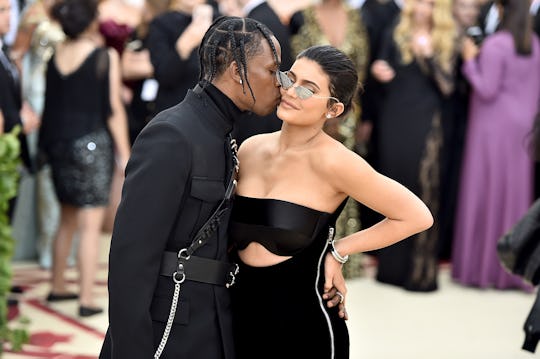 Theo Wargo/Getty Images Entertainment/Getty Images
Travis Scott Finally Opened Up About Stormi's Birth
Although each is famous in their own right, the relationship between Kylie Jenner and Travis Scott remains a bit of a mystery. Sure, we know that they've been together for about year at this point. But the rapper and the beauty mogul are rarely spotted in public together, let alone at actual events. And it's not like Jenner so much as mentions her beau/the father of her child to her millions of social media followers — except for say, Father's Day. So what gives? What is their relationship really like? And what is Scott like as a father? Well, it seems fans have finally gotten a glimpse into the softer side of the rapper. That's because Travis Scott got emotional talking about Stormi Webster's birth for the first time, and it's pretty much the sweetest thing.
In a cover story for GQ magazine, Jenner and Scott opened about about their lives together — including their relationship and their relatively new roles as parents. When asked about the last time he cried, the rapper's answer was surprisingly sweet. According to Us Weekly, the new father answered, "When my daughter was born. As soon as I heard her crying." When Scott was asked if he was in the room the entire time for the birth, he replied:
Hell yeah! It was crazy. I was there through the hell...the epidural and shit. Crazy.
Now, this might not seem like huge news on the surface. But considering Scott has hardly spoken at all (at least publicly) about his baby girl since her Feb. 1 birth, it's kind of a big deal. The very first time Scott opened up about baby Stormi was a couple of weeks after her birth. While leaving a nightclub back in February, the rapper was asked about his baby girl by TMZ. He simply replied, "She's beautiful!," Hello! magazine reported. Scott also took to Twitter a few days after Stormi's arrival to acknowledge a "new rager in town." So yeah. This is by far the most any interviewer has managed to get out of the new father.
In the same interview with GQ, Jenner also spilled on a couple of romantic gestures Scott has pulled off for her — even after he played it cool during the interview and wouldn't share. "Me and Travis got in a little fight. Which is normal," Jenner said, according to Marie Claire. "So I was just crying because I was just overwhelmed. It wasn't even about anything really specific. I was just overwhelmed. And then we made up an hour later. I just flew to Houston to see him for a few hours." She continued:
When I landed in Houston to make up, he — I always kept saying I really want a Stormi chain, so when I landed, he had one made for me.
Too cute, right? But wait, it gets better. Because as it turns out, Scott is quite the romantic. "But probably the most romantic thing he's done for me is, on my birthday, he woke me up out of bed at like six in the morning," Jenner said, according to Marie Claire. "He was like, 'We gotta go,' and I'm just like half asleep, like, 'What do you mean? What do you mean?' And he just starts pulling me, and the sun was just coming up, and he had flowers all the way down his house and violin players everywhere." Awww!
While hanging out at GQ, it looks like Jenner and Scott also played a little game to see how well the rapper knows his lady. Although he didn't know what her dogs' names were, he did know what color her toothbrush is. Fans also discovered that Jenner ate In-N-Out the most while she was pregnant. And nicknames they call Stormi include StormStorm, Burrito, and Peanut. Also, fun fact: Scott was actually the one who came up with the name Stormi. He got 20 out of 23 questions correct. Not too shabby.
I have to say, it's refreshing to see Kylie Jenner and Travis Scott being so open about their otherwise private relationship. While celebrities are certainly entitled to privacy — especially when so much of their lives are made public already — I think this interview does wonders for fans who might have had a difficult time picturing them together and as parents. After this up-close look at their relationship, one thing's for sure: Travis Scott definitely has a sweet side when it comes to his daughter, Stormi, and her mama.