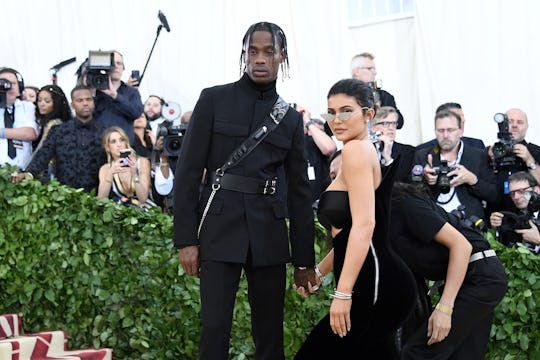 Noam Galai/Getty Images Entertainment/Getty Images
Travis Scott Dished About Life On The Road With Kylie Jenner & Baby Stormi
Kylie Jenner and Travis Scott's daughter might only be 9 months old, but she is living lavishly. This month, Stormi and Jenner left with Scott for his national tour — and both mom and baby are reaping the benefits. Of course, Travis Scott's daughter, Stormi, is living her best life on tour with him, because how could she not with parents like hers?
Earlier this month, Scott, Jenner, and Stormi left for his two-month long tour, and are planning to visit more cities in the United States within the next few weeks than most people will visit in their lifetime. Just one year ago, all of this traveling would seem like a vacation for 21-year-old Jenner and 26-year-old Scott. But now, with the addition of Stormi (who was born earlier this year in February), this tour has turned into a family affair.
During a stop at to Children's Healthcare of Atlanta at Egleston Hospital earlier this week, according to E! News, Scott revealed that being a parent hasn't changed the way he does things on tour. In fact, he revealed that it has only made his tour better — because his life goal is to share the benefits of his success with his daughter and have her "be a part of what I'm living," according to E! News. Needless to say, Stormi is definitely living her best life on the road.
"She's got her own dressing room vibe, got her own bus vibe," Scott told E! News.
Scott also told E! News that being a parent has been a learning experience for him — although he had to "cut a lot of stuff out" for Stormi to have an amazing life, he has become so much more selfless because of her birth. And at the end of the day, Scott is so grateful for the lessons Stormi has taught him in this past year alone. Scott told E! News:
It's so hard because I grew up in a different household, where I never had a nanny or nothing like that — my parents were never on a tour — so being able to do that and figure it out at 26, it's like hard, but when you're going through it, it's like "Oh this is so dope."
Scott is so right — this experience is unlike any other he has had before and nothing like his own childhood. Scott, who grew up in a middle-class suburb in Houston Texas, was raised by his mom and dad, according to Complex — his mom worked at Apple while his dad owned his own business. This was a far cry from Jenner's upbringing, whose mom managed her Olympian dad's career in California, and she and her famous siblings lived a pretty lavish life, according to INSIDER.
And because they're combining their lives for the first time to raise Stormi, it makes sense that it could have been a little hard on Scott at first. But really, what isn't there to love about having your family on tour with you?
Scott and Jenner are pretty used to being on tour together — their "second date" was a weeks long adventure, when Jenner joined Scott on his tour in the summer of 2017, according to GQ.
Jenner told GQ in July that they had a lot of downtime on tour, which allowed them to get to know each other for who they were — not as celebrities but as people. Jenner said, "I really jumped on the bus. And then we rode off into the sunset. I did the whole tour with him."
"Like if we were in L.A., I feel like it would've been way different," she added. "Everything happened for a reason."
Now, a little more than a year later, Scott and Jenner are back on tour again with one very special addition in their lives. Based on Scott's words, he is aware that things are very different than how they used to be. But, at the same time, he seems so happy to be sharing this experience with her.