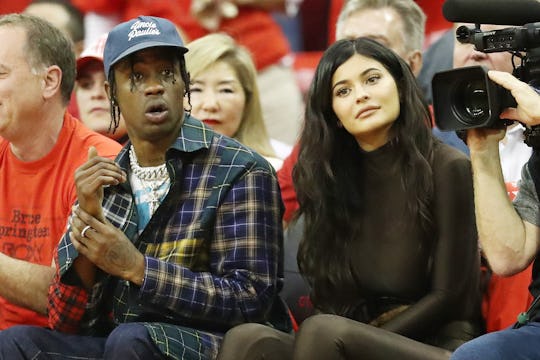 Ronald Martinez/Getty Images Entertainment/Getty Images
Travis Scott Revealed 7-Month-Old Stormi Is SO Close To Reaching A Major Baby Milestone
Travis Scott isn't as social media happy as his girlfriend Kylie Jenner, but in those rare instances when he does take to Instagram to reconnect with fans, his posts are pure gems. Want some proof? Look no further than Travis Scott's latest update about baby Stormi that he shared on his Instagram Story on Thursday. Not only is the post really cute, but there's a good chance it will inspire some strong emotions in parents with little children.
Although it's unbelievable to think about, Scott and Jenner welcomed Stormi about seven months ago on Feb. 1. It's absolutely wild how quickly time moves, a sentiment Jenner touched on in late July. "Stormi will be 6 months in 6 days..," the reality star tweeted. "How did this happen? Moms, do your babies grow as fast as mine?"
Of course, Scott is also aware of how quickly the 7-month-old is growing up, taking to Instagram Stories on Thursday to share with the world that she's almost walking. "We about to be walking soon," he captioned a shot of himself helping Stormi to stand.
Um, say what now? How is it even possible Stormi will soon be walking? It feels like just yesterday that the little girl made her grand entrance into the world. And I have a sneaking suspicion this sweet pic is stirring up a lot of emotions in parents right about now.
My personal shock aside, it's true Stormi is right on track to start walking. "Most babies take their first steps sometime between 9 and 12 months and are walking well by the time they're 14 or 15 months old," according to Baby Center.
Although it's unclear how close Stormi is to taking her first steps, it sounds like there's a good chance she'll be walking by the time her first birthday rolls around. And speaking of Stormi's birthday, Jenner is already in the planning stages for her party. She revealed on Snapchat in June, according to People:
Stormi is going to be 5 months this weekend, which really is tripping me. That means we're halfway to a year… almost. And I'm already thinking about her first birthday and how it's going to be epic. I was going to do super magical unicorn theme but North and Penelope beat me to it So I have to think of something else.
Now that Stormi's big birthday soiree is only five months away, it's heartwarming to think about all of the milestones the little girl has already accomplished. The baby started crawling around May (there's a cute Snapchat video of Stormi enjoying "tummy time" while on vacation overseas for Scott's 26th birthday), and Jenner started styling her hair in July. So many sweet moments, so little time.
But if Jenner and Scott ever start feeling sad about how quickly Stormi is growing up, they can probably reach out to their family members for support. In fact, big sister Khloé Kardashian knows all about how babies can change in the blink of an eye.
"I can't believe my baby will be a month old tomorrow," Kardashian tweeted in May, almost one month after True entered the world on April 12. "Why does this make me happy and sad all at the same time. Thank you Jesus for my sweet peanut."
See? Jenner and Scott have plenty of people to turn to whenever they feel wistful about Stormi's fast development. That's one of the benefits of growing up in a big family, I suppose.
On that note, congrats to Stormi on *almost* walking. Although a baby's first steps can be an emotional milestone for parents, I have no doubt Scott and Jenner will get through this new chapter just fine.