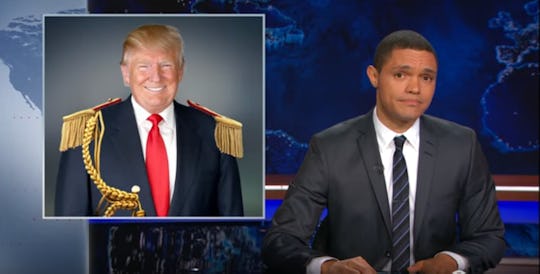 Comedy Central/You Tube
Trevor Noah's Emergency Appendectomy Cancels 'Daily Show' Wednesday, But Here Are 6 Of His Best Clips To Keep Us Laughing While He's Out
When Jon Stewart left The Daily Show earlier this year, most of us were afraid his replacement wouldn't be able to fill his shoes. And though Trevor Noah has taken the reigns only since September 28, it kinda feels like he's been there forever.  It's also pretty clear so far he's doing a great job. But if you were bummed to hear the news that Trevor Noah underwent emergency appendectomy Wednesday, thereby canceling the night's episode, I was right there with you. But no worries; you know he'll deliver when he gets back.
In a statement released Wednesday, Comedy Central said they will air a rerun tonight. The network also said the procedure went without a hitch and while the comedian is resting tonight, they hope to be back in action with a Daily Show episode tomorrow. According to Comedy Central:
Trevor Noah underwent an emergency appendectomy early this morning. We're happy to report the procedure went well and he is currently recuperating from the surgery[...]As a result, 'The Daily Show' will air an encore tonight. We expect he and the show will be back with an original episode tomorrow.
And looking back at the third host's short tenure, the 31-year-old has picked up right where Stewart left off with ease. (Not to say we don't miss Jon, because we do.) The best part of having Noah on The Daily Show? Just like his predecessor, he's making sure that nobody is off limits — and that's made for some comedy gold in recent months.
So, while he's only gone for tonight, it may be the perfect time to reflect (and enjoy) on the times Noah was totally on-point on The Daily Show. Here are six of his best clips so far:
When He Broke Down The Benghazi Hearings Like Nobody's Biz
2. When He Made Fun Of Jeb Bush For Fumbling That Superhero Question 
3. When He Took On The Democratic Debate — Flawlessly
4. That Ben Carson Shooting Story...Yeah, He Zeroed In On That, Too
5. When He Brilliantly Deconstructed Pro-Gun/Pro-Life Hypocrisy 
6. When He Speculated About How Donald Trump Would Lead An African Country
With the presidential elections heating up, we're sure he has plenty of material to keep us entertained. 
Image: Comedy Central/YouTube