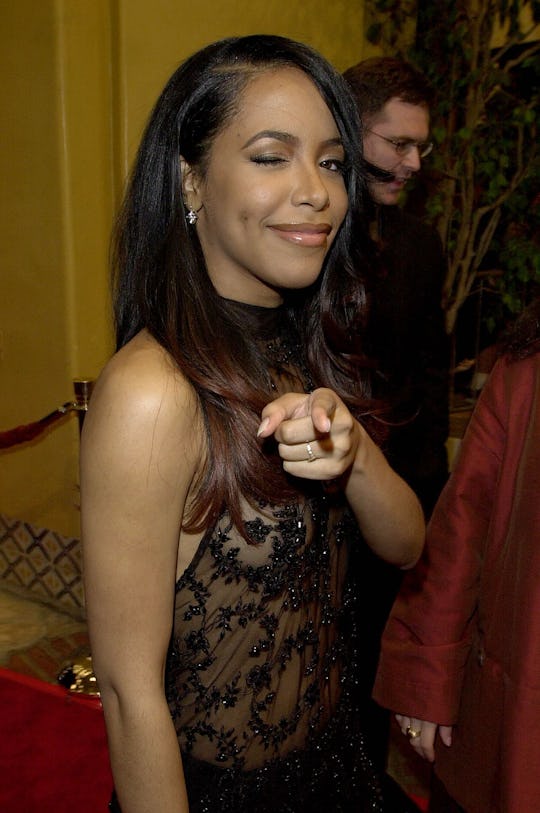 Vince Bucci/AFP/Getty Images
Tributes To Aaliyah On The Anniversary Of Her Death That Show How Much She Meant to Fans
It's hard to believe it's been 15 years since Aaliyah died in a plane crash on her way home from a video shoot in the Bahamas. She would be 36 years old on Thursday. Now, Aaliyah Dana Haughton, the pop star, will be remembered forever young, beautiful, with limitless potential that was cut short by unthinkable tragedy. Aaliyah's impact on American pop culture is still real and present and the pain and shock of her death lingers. Here are the best tributes to Aaliyah on the anniversary of her death that show how much she still means to her fans all these years later.
It's kind of amazing to see the impact Aaliyah is still having on pop culture all these years later. Especially when you consider how short the American attention span is these days. Is it that she represents a time when we didn't have social and viral media, and so we had fewer stars to fawn over? Is it that the loss of her talent and promise still haunts the many people she touched? Or is it because of the tragic nature of her death? Perhaps it's a little bit of each.
Here are just a few of the best remembrances of Aaliyah from her fans, who will never forget her or her music.
Fifteen years goes by faster than you think.
Her nickname was "Babygirl," and it was given to her by producers Missy Elliot and Timbaland, according to Songfacts.
According to The Urban Daily, Aaliyah was the niece of Gladys Knight.
This Tommy tube top is still legendary.
A sweet tribute from Usher.
Aaliyah wore her hair over one eye as a tribute to actress Veronica Lake, her mom's fave, according to Vibe.
Aaliyah's bestie was Quincy Jones' daughter Kidada, according to Complex.
According to Complex, she lost on Star Search in 1989 with her rendition of "My Funny Valentine."
And all these years later she's still loved. That's a long way to go in 22 short years.
Aaliyah had to attend high school with body guards, but still managed to graduate with a flawless 4.0 GPA, according to Vibe.
Aaliyah wore the hell out of menswear all the time.
Aaliyah reportedly secretly married singer R Kelly as a teenager, according to Essence, when she was just 15 and he was 28. It was illegal because of her age and the union was later annulled.
It's important to remember it wasn't just Aaliyah who was lost on Aug. 25, 2001, in that plane crash.
She was a true R&B princess.
In 2014, talk show host Wendy Williams produced an Aaliyah biopic and told Vice why she thinks people still love Aaliyah all these years later.
It's just disgusting. Everybody wants to sing, everybody wants the chance to play basketball, everybody wants to be on a reality show—everybody wants to be famous. And so, why do I think her story resonates? She had a very interesting life. While it was short, it was very interesting.
Rest in Peace Aaliyah.