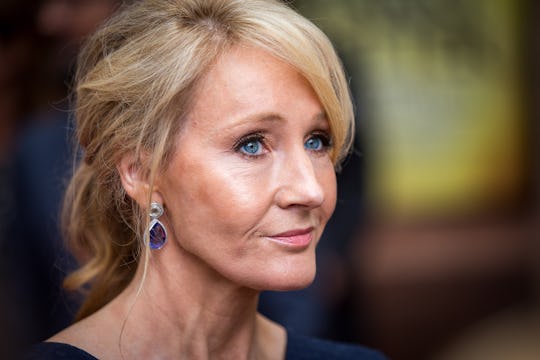 Rob Stothard/Getty Images Entertainment/Getty Images
Readers Are Thanking J.K. Rowling On Twitter
There are a seemingly endless number of reasons to love and adore author J.K. Rowling. In addition to having one of the most remarkable underdog success stories of all time — she went from a struggling single mom writing a manuscript in 1995 to one of the world's highest-paid authors — she's also a total boss on social media (no one can decimate an online troll like she can). She often unapologetically advocates for feminism and LGBTQ rights, and just generally seems like a lovely human. But for many, Rowling's impact goes much further, and tributes to J.K. Rowling on Harry Potter's 20th anniversary show just how much the writer and her work has meant to so many people over the last two decades.
It's hard to even believe that it's already been 20 years since the first Harry Potter book, Harry Potter and the Philosopher's Stone, was released in hardcover in the U.K., but it's also hard to believe that there was a time when Rowling's first book hadn't yet become a massive cultural phenomenon. According to The Guardian, when the first Harry Potter installment was printed in hardcover in 1997, only 500 copies were made — and about 300 of them went to libraries. Two decades and seven follow-up books later, the hugely-successful Harry Potter series has sold more than 450 million copies worldwide, according to BBC News. And if you were lucky enough to nab one of the 500 originals back in the day? According to The Guardian, it would now be worth nearly $40,000.
Given the book's success — and the solid fandom that continues to endure as a result of it — many people took to social media Monday to honor the Harry Potter series, and share the impact that it has had on their lives. And unsurprisingly, many of those messages were heartfelt tweets of gratitude to Rowling specifically, for creating a magical literary world that meant so much to them.
Using the trending hashtag #HarryPotter20 (complete with a special HP-themed emoji), many users tagged the author, thanking her for her work:
Many also shared that reading Harry Potter taught them a number of important life lessons:
While others discussed the way Rowling's writing felt invaluable to them as children:
And that her work even influenced who they became later in life:
For others, Rowling's books helped to instill within them a love of reading that may not have otherwise occurred:
But it's not just young readers who were influenced by Rowling's work. In an interview with The Guardian in 2016, author Frances Hardinge noted that Rowling's success also changed the game for writers, too. Hardinge said that Rowling "showed publishers there was a huge market waiting for the right children's book and encouraged them to invest in children's authors" — a fact that Hardinge said contributed to her own ability to spend the last decade writing children's books herself. The Fly By Night author also noted that the popularity of Harry Potter "helped to open up the crossover market," and that it helped "adult readers overcome their preconceptions" about reading young adult fiction, giving writers access to a much bigger audience than they may have had otherwise.
Francesca Simon, author of the Horrid Henry series of children's books, agreed. Simon told The Guardian, that before Rowling, "there was no publicity for children's authors," and that as a result "children's books were left off the bestseller lists." Simon also said that the success of Harry Potter made publishers rethink the idea that children don't actually like to read long books — Rowling was often told that her manuscript was too long for a children's book — which ultimately meant that other writers with longer fiction works had a better opportunity at finding their work published, too.
By all accounts, few people likely realized in 1997 that a children's book about a wizard would go on to become such a massive success, let alone one that continues to be as beloved today as it was then. But it's clear that Rowling has had an indelible effect on readers' lives — not to mention the publishing industry in general — and the love and praise she's earned in return has been more than deserved.