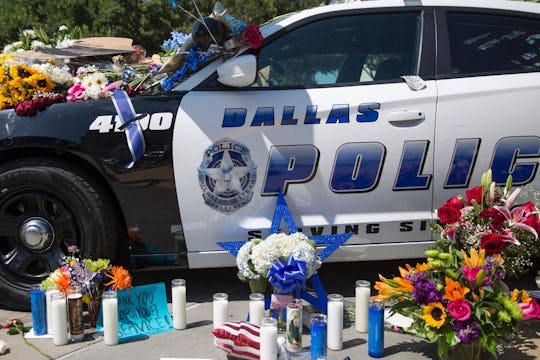 LAURA BUCKMAN/AFP/Getty Images
Tributes To The Fallen Dallas Officers Across The Country Show How People Come Together
After the fatal ambush in Dallas on Thursday, tributes to the fallen Dallas officers are taking place across the country and on social media. Five police officers were killed in the attack and seven more were injured. Two civilians were also shot in the attack that night. The shooter used "sniper tactics" to take over the streets where a peaceful protest was happening in the wake of the shootings earlier in the week of Alton Sterling and Philando Castile. The shooter was later killed by police officers using a bomb wielding robot in a parking garage. For all Americans, it's been a sad and scary week of violence.
President Obama made a statement on Friday from Europe, where he was attending a NATO summit in Poland. He called the attack, "a vicious, calculated and despicable attack on law enforcement" and said that the nation was "horrified" by the incident. In addition to ordering the flags at the White House to be flown at half staff, Obama said that, "anyone involved in the senseless murders will be held fully accountable. Justice will be done." Obama plans on cutting his European trip short by one day, according to CNN, and will visit Dallas in the coming week.
Before that visit, though, memorials and tributes are already taking place for the fallen officers.
From Celebs & Politicians
At Dallas Police HQ
From Other Police Departments
The tributes are too many to list. There's a cellist in Atlanta who has a moving, musical tribute. Everyday people have posted blue flowers and badges with a black stripe on them to their Instagram accounts. On Twitter, the heartbreak is real.
On her own Instagram account, Beyoncé posted a video with the slain officers' names, just like she posted the names of all those killed by police officers recently earlier this week. She captioned her post:
Rest in peace to the officers whose lives were senselessly taken yesterday in Dallas. I am praying for a full recovery of the seven others injured. No violence will create peace. Every human life is valuable. We must be the solution. Every human being has the right to gather in peaceful protest without suffering more unnecessary violence. To effect change we must show love in the face of hate and peace in the face of violence.
As more information comes out in the coming days about the attack in Dallas and others speak out or protest violence, there are sure to be more memorials and tributes to the officers killed in the attack. The one takeaway from all of the tributes is that everyone was hurt, somehow, by the attack in Dallas, and now's the time to come together.