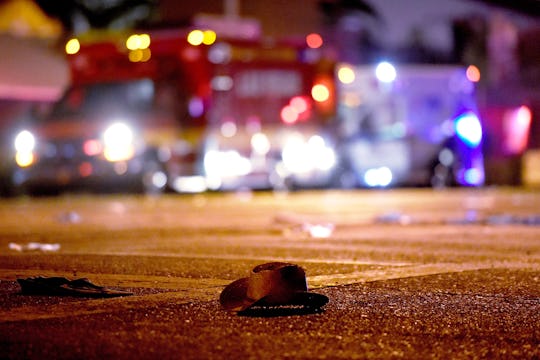 David Becker/Getty Images News/Getty Images
Tributes To The Las Vegas Shooting Are A Heartbreaking Reminder We Can't Forget
In the wake of what is now the deadliest mass shooting in United States' history, we are, as a nation, once again coming to terms with an all-too common cultural occurrence: gun violence. After 50 people lost their lives and more than 400 were injured when a 63-year-old gunman opened fire from the 32nd floor of the Mandalay Bay Hotel and Casio, tributes to the Las Vegas shooting are reminding us all that with such a catastrophic loss of life comes an undeniable need for action. We must, as a country, do better.
Update: As of 6 p.m. ET on Monday, Oct. 2, CNN reports that 59 people have died and over 500 people were injured. Authorities say the suspect had 18 additional firearms, explosives and several thousand rounds of ammo at his home in Mesquite, NV.
One of the first tributes made public came from Jason Aldean, who was on stage and performing at the Route 91 Harvest Music Festival during the shooting, according to CNN. At first (and as seen on multiple videos taken by eye-witnesses and those in the crowd, though none will be shown at this time as the footage is extremely graphic), Aldean remained on stage, thinking the sounds of gunfire were fireworks. Moments later Aldean retreated from the stage, taking shelter as it was provided to him. He later posted a heartfelt message to his Instagram account, marking the first of what would be many tributes to the city of Las Vegas, the victims and their families, those wounded and still fighting for their lives, and everyone else affected by another random act of terror.
Tonight has been beyond horrific. I still don't know what to say but wanted to let everyone know that Me and my Crew are safe. My Thoughts and prayers go out to everyone involved tonight. It hurts my heart that this would happen to anyone who was just coming out to enjoy what should have been a fun night. #heartbroken #stopthehate
Before too long, American citizens took to Twitter to give their thoughts, prayers, and heartfelt condolences to the victims, their loved ones, and those still fighting for their lives in what has no doubt become somewhat of an American "tradition." According to Newsweek, 244 mass shootings occurred in the first 240 days of 2017. We, as a country, are arguably nothing if not used to paying tribute to the lives lost following a mass shooting.
Of course, many were also quick to offer their "thoughts and prayers" to the victims and their families, including former United States President Barack Obama. In a statement sent via Twitter, President Obama said he was "praying for the victims" and this "thoughts are with their families and everyone enduring another senseless tragedy."
Others used the trending hashtag #PrayForTheWorld to pay tribute to those affected by the shooting in Las Vegas. The hashtag was also used for many, across the country, to voice their fear for the future and the futures of our children. After all, only a quarter of Puerto Rico's 80,000 residents have running water in the wake of Hurricane Maria, according to CNN. Recently, according to ABC News, the death toll of the recent Mexico City earthquake rose to 360. The world, for lack of a better term, feels like it's burning, and our nation's citizens — the world's citizens — are struggling to make sense of it all.
So, in many ways, tributes for Las Vegas gave way to a more collective, all-encompassing feeling of immense sadness, fear, and uncertainty.
Little is known about the shooter's motives, and local and federal law enforcement officials are still investigating the shooting. But is a motive really necessary? Will we ever, as a society, make sense of someone opening fire on a crowd of concert-goers, killing 50 and injuring hundreds? No. No we won't. It doesn't make any more sense than a shooter walking into Sandy Hook Elementary school and murdering 20 innocent children. It doesn't make any more sense than two high school students walking into Columbine High School and killing 13 of their classmates.
It doesn't make any more sense than looking around the world and realizing that United States citizens are 10 times more likely to be killed by guns than people in other developed countries, according to The American Journal of Medicine, and saying there's nothing we, as a nation, can do to protect our citizens.