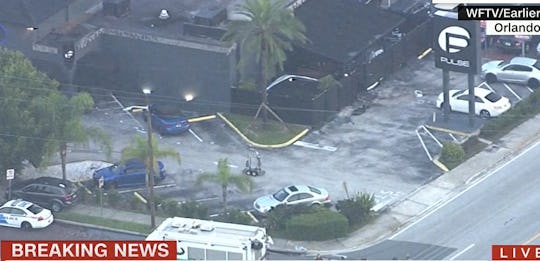 CNN/screengrab
Tributes To The Orlando Shooting Victims Are Heartbreaking & Touching
After a gunman opened fire inside a popular gay nightclub, Pulse, in Orlando, Florida in the early morning hours on Sunday, Twitter quickly flooded with a myriad of heartbreaking tributes to the Orlando shooting, many of which stood in solidarity with victims of gun violence and the LGBT community alike. Orlando itself is known as a relatively LGBT-friendly city, with several gay clubs dotting the downtown area, and the seemingly targeted shooting, which took place just after 2 a.m. ET, shook the community significantly. On Sunday, police stated that at least 20 people were killed, with several dozen more injured.
(Update: The FBI has updated the death toll to 49 victims. The shooter was also killed.)
While early reports suggested that the shooter may have been known by the Joint Terrorism Task Force, according to CNN law enforcement analyst Arthur Roderick, few details about the victims were released, with authorities noting that the families had yet to be notified. Orlando Police Chief John Mina said in a statement Sunday morning that the event at least had seemingly been intricately planned out.
"It's appears he was organized and well-prepared," Mina told reporters. He noted that the gunman, later identified as U.S. citizen Omar Mateen of St. Lucie County, first opened fire on an officer outside Pulse, then ran inside the club, resulting in a police stand-off that lasted until around 5 a.m. ET.
As news of the tragedy began to make the rounds on social media, users responded in kind, posting tributes and tweets to the victims and their families:
Support For The LGBT Community
Condolences For The Victims & Their Families
Grief Over Yet Another Mass Shooting
Continued Faith In Humanity
Despite the fact that this most recent shooting is now classified as the deadliest mass shooting in U.S. history, the scores of social media users tweeting positive and sympathetic messages and tributes to the victims, shooting victims in general, and the LGBTQIA community as a whole serves to remind the public that no matter how many times it happens, communities — both literal and digital — will band together to enact change and lift each other up.