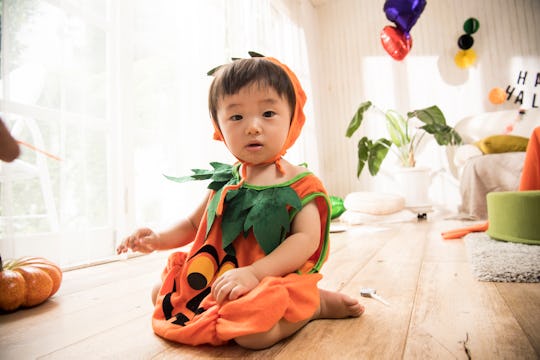 kokouu/E+/Getty Images
Here's What 15 Families Are Doing This Halloween Instead Of Trick-Or-Treating
Besides the part about getting to eat way more candy than usual, the best part of Halloween for kids is getting to dress up in their costumes for a night of pretend. But with this year's pandemic taking the traditional door-to-door trek around the neighborhood off the table for many families, parents across the country are scrambling to figure out trick-or-treating alternatives that will still give their kids a fun-filled night. The good news is that with a little creativity, this Halloween can be salvaged even without a visit from the Great Pumpkin.
If you're still trying to decide whether or not to go knocking at your neighbor's house, it's worth noting that straight-up trick-or-treating is on the CDC's list of high-risk activities for Halloween 2020 (along with costume parties and haunted houses). While socially-distanced trick-or-treating is a little better, it's still under the "moderate risk" category. Skipping the tradition to reduce the spread of the virus is the safest option, but it's also the saddest option (because it's one more thing kids won't get to enjoy after months of quarantining, remote learning, and everything else COVID-19 has brought with it).
There are still a lot of alternative ways to enjoy spookiest day of the year, though, especially since Halloween falls on a Saturday this year. Not-so-scary movie marathons, carving jack-o-lanterns, and s'mores around a camp fire while telling ghost stories are all stellar ways to celebrate the holiday. As long as there are costumes and candy, your kids will still be smiling. If you need some ideas, here's what 15 families told Romper about their Halloween plans.