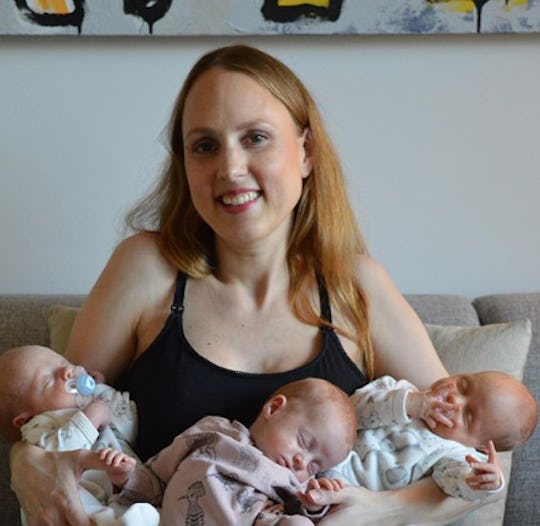 Courtesy of Maria Jorstad / Instagram
Mom Of Triplets Whose Bump Went Viral Is Home With Babies & They're Doing Well
Her weekly photos documenting her pregnancy bump as she prepared to give birth to triplets went viral, but Maria Jorstad, creator of the "Triplets of Copenhagen" Instagram account, wants everyone to know that mom and babies made it through... and even her bump is recovering, too.
Back in September, the expectant mom, 36, shared with the world her progression, photo by photo, from being barely-pregnant to being 35 weeks along with three babies, who were conceived naturally, as Jorstad has shared on her Instagram. The odds of conceiving triplets naturally are approximately one in 4,400, according to British website Good To Know.
At 35-weeks-pregnant and in a great deal of physical discomfort, as she shared online, Maria went to the hospital to deliver Filip, Agnes, and Iben. Although the babies were, of course, premature and, in fact, needed feeding tubes originally, everyone is miraculously well and safe at home.
"The last five weeks since the birth of the triplets have been quite the roller coaster ride," Jorstad tells Romper by email. The new mom, who was born in Norway but now lives in Copenhagen, Denmark, welcomed the infants with her husband, Anders, and their older son, Mikael, 2, according to her social media accounts.
"Recovering from the C-section has been pretty tough, at least when you have to take care of three babies at the same time," she adds.
Back when Jorstad started her account earlier this year, her objective was to document what she was going through, and what the human body is capable of, and the result has been 238,000 followers from all over the world. Amazing.
However, Jorstad isn't in it for the pretty pictures. She's someone who needs to share honestly that, as she explains, new-mom things such as feeding not one, but three, newborns are not without very real challenges. "My husband did all the tube feeding at the hospital to begin with, and then we have slowly moved over to a combination of breastfeeding and bottle-feeding," she tells Romper.
"All the breastfeeding, pumping and sleepless night are taking [their] toll on me, and I've been through both mastitis and dizziness/nausea spells," she confesses. "But the most important thing is that the babies have been doing really well, all from the beginning! We are so happy and relieved about that."
In fact, recent posts note that she is still dealing with issues related to trying to breastfeed this bunch, including mastitis, an infection in the tissue inside the breasts' mammary glands that is common in the early stages of breastfeeding, according to Medical News Today.
Jorstad revealed on the account that she has had mood swings, dizziness, has been on antibiotics for the breast infection, and has also suffered from breast and nipple thrush, a yeast infection that can be quite painful, according to La Leche League GB.
But, having had family, including her mother-in-law, mom, and sister, around to help, Jorstad sounds resilient. "The transition back home has gone by smoothly, and even though we sometimes only get a total of 2.5 hours of sleep at night, we thankfully also have calm moments during the daytime when we have time to recover a bit," she says.
"And the babies are super-cute and have put on almost a kilo [just over two pounds] each. They are starting to show their personalities, and moving from preemies to ordinary babies."
As Jorstad has shared, her own family is now going to be a country away, and that's sad. But she's going to be able to count on help from her in-laws. She also knows she's lucky that her husband paid family leave as a Danish citizen, although he will stay home until New Year's without pay, so they will rely on savings.
She adds by email that juggling an older kid, and making sure he feels cared for, is a big part of the equation. "Because we have a 2-year-old, we get extra help from family during the afternoons and weekends," she writes, adding that she has not heard from any celebrity moms in spite of her newfound fame. "We are so lucky... to have four healthy, adorable children."
This mom of multiples has had a fascinating journey, and I so appreciate that she wants people to get that she is parenting as imperfectly as anyone. I love the honesty.