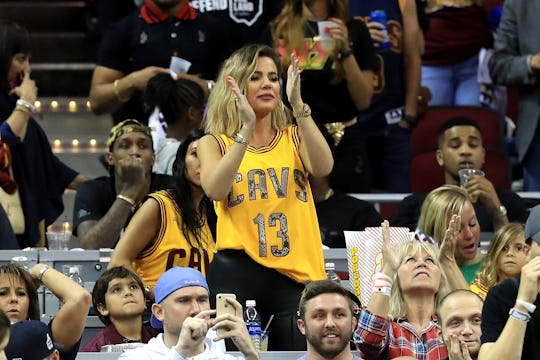 Ronald Martinez/Getty Images Sport/Getty Images
Tristan Thompson's Quotes About Khloe Kardashian Are Rare, But Oh So Sweet
Unless you've been completely avoiding the internet lately (and I, for one, would not blame you), you are aware that there are not one, not two, but three Kardashian-Jenner sisters are reportedly expecting at the moment. Fans might not being hearing much from the famous sisters right now, but one of the alleged fathers, Tristan Thompson, has said spoken sweetly about Khloe Kardashian on a few rare occasions. Although his quotes are far and few between, they show that the couple is definitely head over heels for each other. While neither Thompson nor Kardashian have confirmed or denied these pregnancy reports, fans can't get enough of the possibility that they could be starting a family very soon.
Of course, that means that the internet has been over-analyzing just about everything Kardashian, or Thompson, has done since her pregnancy was first reported by Us Weekly on Sept. 26. Romper has reached out to her rep for confirmation, but has not heard back at this time.
Since then, though, every photo either one of them shares to social media, or appearance they make, or tweet that they like is looked at with a magnifying glass by fans who just want an answer. But, at the end of the day, that answer can only be given by Kardashian or Thompson. And until then, the only thing to do is look back at what the happy couple has actually said. Or more specifically, what Thompson about his relationship with everybody's favorite Aunt Koko.
To be fair, Thompson hasn't said all too much about his relationship with Kardashian other than some beautiful shoutouts on social media. There, though, he totally lets his feelings show, and it's kind of adorable.
On June 27 of this year, for example, Thompson took to Instagram to wish Kardashian a happy birthday, and his post dedicated to her is seriously swoon-worthy.
Along with three adorable shots of the couple, Thompson wrote this sweet message:
Happy bday my love, this picture right here sums up how wild, crazy and how much we love each other. Let's continue to build more memories and cherish them with each other. God bless you, I love you.
It's OK, I'll pause for a moment while you collect yourself after reading that perfect dedication.
Ready? Good, let's continue. Truthfully, Thompson hasn't said a whole heck of a lot else about his relationship with Kardashian, but it still seems that the two are very much in love and could totally be ready to start a family if that's what they want or have in store. In fact, according to Us Weekly, Kardashian revealed on an episode of Keeping Up with the Kardashians that she and Thompson have discussed starting a family together, saying:
He wants to have, like, five or six kids with me, and that's lovely. We could start at one and then grow from there. But now, knowing I'm not on birth control, it's really scary. It's like a really big step.
Even before pregnancy rumors started swirling, it was clear that these two were end game. In a Christmas-themed Instagram post from Thompson, he shared a special message with Kardashian:
Merry Christmas & Happy Holidays from me and mines, to you and yours.
The 26-year-old NBA player's word choice in the caption above is something else. Thompson calling Kardashian "me and mine," is a pretty strong statement. And whether or not you agree with the notion that people belong to each other in a relationship, it's still pretty sweet that Thompson thinks so much of Kardashian. They're practically already a little happy family with just the two of them.
Watch Romper's new video series, Romper's Doula Diaries:
Check out the entire Romper's Doula Diaries series and other videos on Facebook and the Bustle app across Apple TV, Roku, and Amazon Fire TV.