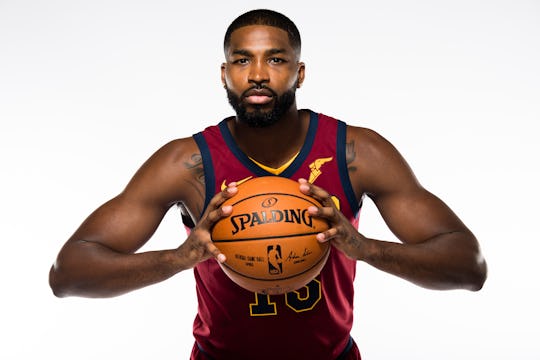 Jason Miller/Getty Images Sport/Getty Images
Tristan Thompson's Quotes Show He'll Be A Loving Dad To His Reported 2nd Child
Kardashian fans have had a lot to keep up with lately, given all the exciting baby news in the famous family. And after People reported that Khloé Kardashian, 33, was expecting her first child with boyfriend Tristan Thompson, 26, (Kardashian's representative has not responded to Romper's request for comment) many fans wanted to learn all they could about the man who would reportedly become a father to the latest little Kardashian. Tristan Thompson's quotes about fatherhood may be hard to find, but he has been vocal about the importance of family in his life, which could be a sign of how he'll be once he and Kardashian start a family of their own.
This (reported) baby will be the first for Kardashian, who has been dating Thompson since September 2016. But the Cleveland Cavaliers player is actually already a father to a little boy named Prince, who was born in December 2016. Thompson and ex-girlfriend Jordan Craig split while she was pregnant, and Thompson has largely kept mum about his son on social media. That could be in order to protect the baby's privacy. (Craig, for her part, also seems to avoid posting unobscured photos of or identifying details about the baby, although she does often blog about motherhood.)
It may be hard to glean much about Thompson's fatherhood style from his social media, but according to Kardashian, he is a wonderful dad. Before news of her pregnancy broke, Kardashain told ES Magazine that she wanted to have children with Thompson, saying:
I would love to have a family. We've talked about it... He [already] is a father, and I know for a fact that he would be an impeccable father.
And she reiterated her assessment of Thompson's parenting skills in an interview with Mail on Sunday's YOU Magazine, saying:
Tristan is a great dad and he definitely wants more children, but we both feel that it will happen when the time is right.
As for Thompson himself, he may not have talked much about fatherhood publicly, but how a man treats his mother can often give some clues about how he himself might parent. And Thompson's got no shortage of love for the woman who raised him. On Mother's Day, Thompson posted a picture of the two of them on Instagram, writing:
Happy Mother's Day mommy, your hard work and sacrifices that you have made for our family has molded me into the man I am today. You're my rock, my motivation and I am blessed and fortunate to be your son. I love you so much.
Social media also shows that he seems to have taken on a protective and loving role with his much younger brother, who has epilepsy. As Thompson wrote on an Instagram of his brother:
I started the Amari Thompson Fund for my brother who has epilepsy and I'm grateful that now I'm not only able to help him but other families too.
And he proudly serves as an ambassador for Epilepsy Toronto, because of his love for his brother.
He has also been very vocal about his love for Kardashian, including in a recent Instagram on her birthday, which offered up some of his hopes for their future together. He wrote:
Happy bday my love, this picture right here sums up how wild, crazy and how much we love each other. Let's continue to build more memories and cherish them with each other. God bless you, I love you
Romper reached out to Thompson for comment and did not immediately hear back, and the baby news has not yet been officially confirmed by anyone in the Kardashian-Jenner clan. But it seems like Thompson and Kardashian are deeply in love, and excited to start a family together. So congratulations to them!
Watch Romper's new video series, Romper's Doula Diaries:
Check out the entire Romper's Doula Diaries series and other videos on Facebook and the Bustle app across Apple TV, Roku, and Amazon Fire TV.