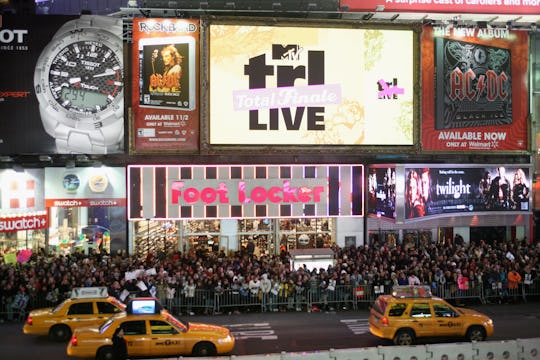 Scott Gries/Getty Images Entertainment/Getty Images
'TRL' Is Coming Back To A TV Set Near You
Who doesn't remember coming home from middle school and immediately turning on TRL (also known as Total Request Live, which is what your mom probably called it) to catch every brand new music video as soon as it aired? Whether you were tuning in for the music video countdown or just hoping to spot a celebrity doing something zany for attention, TRL was there to help you out. And now TRL is going to return to MTV, proving yet again that remakes and reboots are the only thing that anyone knows how to do anymore. But this won't quite be TRL as you remember it – in fact, it's not even going to be called that.
Dubbed MTV Live instead of TRL, the reworked version of your old favorite show will begin airing in June 12 of this year. Though it may have a different name, MTV Live will also be a live show that runs for three or four hours every single day. Not much is known about the content of the new show, but music will certainly be a factor and it will be filmed in the Times Square studio that became so definitive for TRL. MTV President Chris McCarthy had this to say when announcing the decision to bring the show back: "That ability to be live, in culture – not responding to it but driving it – is where we belong."
McCarthy was looking to revitalize MTV, and he wanted to make live programming an integral part of the network once again. His decision to bring back a show like TRL follows on the heels of choosing to turn Ridiculousness into a two-hour live show that airs every Friday, which led to a ratings bump. Other past MTV reality shows like My Super Sweet 16 will also be returning alongside brand new reality TV fare Siesta Key (think The Hills, but Florida) and Promposal (let's just not).
It's not clear yet what shape MTV Live will take and how much it will resemble its predecessor (hopefully there will be at least a few familiar faces on the show to bolster all that nostalgia). There have yet to be any announcements about what the show will be like or who will host it – if they even have a host at all. TRL went off the air in 2008 after a ten year run, by which time the internet had pretty much usurped its place in pop culture. There's no way MTV Live could be quite what TRL was in its heyday just because there's no going back in time, but maybe it can still be something special.