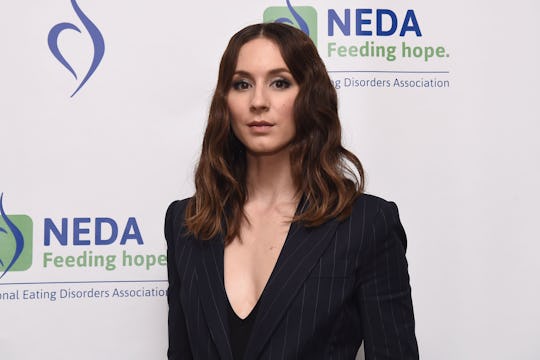 Ilya S. Savenok/Getty Images Entertainment/Getty Images
Troian Bellisario Gives Birth To Her First Child With Patrick J. Adams & It's A Girl
Attention, Liars! Troian Bellisario has given birth to a healthy baby girl with her husband, Patrick J. Adams, reports E! News. The baby girl's date of birth has yet to be confirmed, but after keeping her pregnancy under wraps for as long as possible it's no surprise that Bellisario is keeping the details private. Interestingly enough, if you take a look at Bellisario's Instagram, you'll notice she hasn't posted anything for five days. So it is likely safe to assume that baby Adams was born within the first week of October. Now they are a happy, healthy family of three!
It was first reported that Bellisario, best known for her role on the hit TV series, Pretty Little Liars, was expecting when E! News confirmed the exciting information in August 2018. However, as far as I can tell, Bellisario has never exactly confirmed the news herself. In fact, if you check out her social media you'll notice that she hasn't so much as posted a baby bump picture — until now. To celebrate the news of her daughter's birth, Bellisario shared the sweetest first photo of her on Instagram. She even went so far as to acknowledge how they've kept the news private, and thank those of her friends, family, and loved ones for keeping their little secret a, well, secret.
"I cannot express how grateful I am. To the people who have protected us and kept our growing family safe and respected our privacy. To our tribe for expanding with grace and exponential amounts of love," Bellisario captioned the photo, which shows her daughter gripping Adams' fingers. To make it even sweeter, Bellisario has her fingers wrapped around theirs.
Adams seconded their gratitude with his own Instagram post of the same photo, writing:
Thank you to everyone who fought for and protected our privacy during this incredible and beautiful time in our lives.
Of course, seeing Bellisario and Adams finally share one of the most exciting, intimate details of their relationship has fans ecstatic. Not just to be included in the announcement, but for the actors they adore so much to be so elated over their expanding family.
Even though Bellisario and Adams have yet to reveal their daughter's name and official date of birth, they did let one little piece of information slip on social media. Baby Girl Adams, as we'll affectionately call her for now, was born at 8lbs, according to her dad's Instagram caption. "The world just got 8lbs heavier," the first-time dad started the sweet, emotional caption.
Whatever her birthday or name may be, Baby Girl Adams is going to be one strong, powerful woman growing up. Both Adams and Bellisario have promised the world that already, and given the current state of the world due to some extremely poor political choices, we could definitely use another strong female voice in our future.
"We will raise her to be powerful, to always speak her mind and heart and to live without fear," Adams wrote. "It's a brand new day and a brave new world and they are both beautiful." He's not wrong.