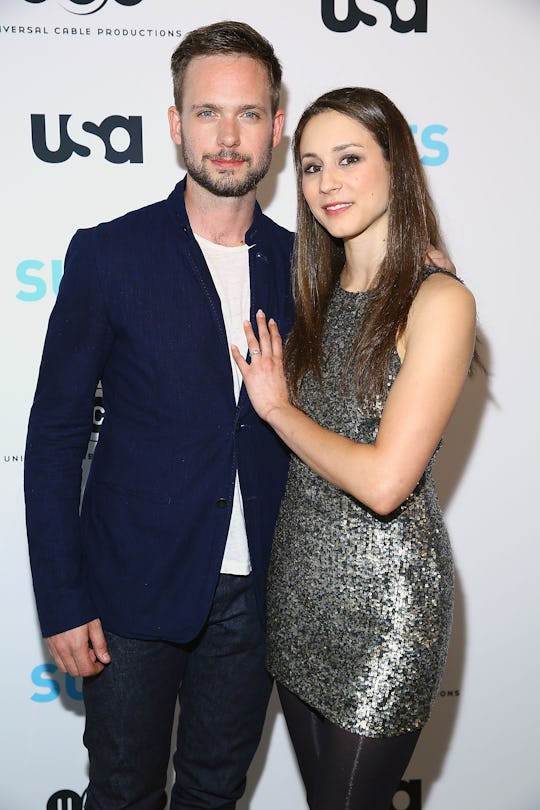 Astrid Stawiarz/Getty Images Entertainment/Getty Images
Troian Bellisario & Patrick J. Adams Are Reportedly Expecting Their First Child Together!
If you're in the mood for a bit of exciting news, you're in luck. On Monday evening, E! News reported that Pretty Little Liars star Troian Bellisario and Patrick J. Adams are expecting their first child together. The couple has not confirmed the news or addressed the reports yet, and their reps did not immediately return Romper's request for comment, but fans are still so thrilled for them.
Though they're both pretty active on social media, the pair hasn't been seen in public since they attended Prince Harry and Meghan Markle's wedding this past May in London, according to Us Weekly. If you're wondering how they scored an invite to the royal wedding, Adams stars on USA's Suits, and formerly played Markle's husband on the show, according to Harper's Bazaar.
Adams and Bellisario tied the knot in a "rustic ceremony" in California back in December 2016, according to E! News, after getting engaged in February 2014. And while the parents-to-be couldn't be more adorable as is, their love story is so simply sweet, it might just take the cake. As reported by HelloGiggles, Adams said during an interview in 2013 that Bellisario was actually cast to play his "romantic interest" in a play called Equivocation. "We met and that was it. That was a little more than three years ago," he told HerWorldPlus.com.
Since neither Bellisario nor Adams have addressed the news yet, not much is known about their reported baby-to-be, but the Suits star has previously discussed the idea of him and Bellisario having children together. In in an interview with Entertainment Tonight last month, Adams said:
We talk about it all the time, obviously, and when the time is right, the time will be right. You know, we're not going anywhere. Very much in love and excited for everything that comes next.
As E! News reported, Bellisario, as well as her hubby, appear to have been avoiding posting photos of the actress' stomach on social media over the last couple months, though they haven't gone totally MIA on Instagram. Most recently, both have taken to their respective Instagram accounts to promote their sci-fi drama, Clara, announcing that it had been selected to premiere at the 2018 Toronto International Film Festival.
In Clara, as Deadline reported, Adams plays an astronomer who is "obsessed with searching the cosmos for signs of life beyond Earth," while Bellisario plays a research assistant named Clara, who "restores balance and perspective in the midst of his downward spiral."
Three days before news of their reported pregnancy made headlines, they both shared a trailer for Clara on Instagram. As the most recent social media posting, fans flooded to the comments section to send the couple their congratulations. "Congrats on your baby💕👶🏼," one fan wrote.
Another wrote, "Congratulations on your accomplishments and congratulations on your little bundle!!" One more chimed in on Adams' post, writing: "IM SO EXCITED FOR YOU AND TROIAN!! i love you both so much, congrats!! you two are gonna be the best parents EVER 💗💗."
But one fan went straight to the source and asked, "Is it true? 🤰." Touché.
Fans are clearly over the moon excited for Bellisario and Adams. Of course, it's so fun to learn that one of your favorite celebrities (in this case two) have a baby on the way, and they're probably soaking up all of this excitement, too. Hopefully these two will share an update soon, but in the meantime, fans will keep on sending well wishes their way. Congratulations, Troian Bellisario and Patrick J. Adams!