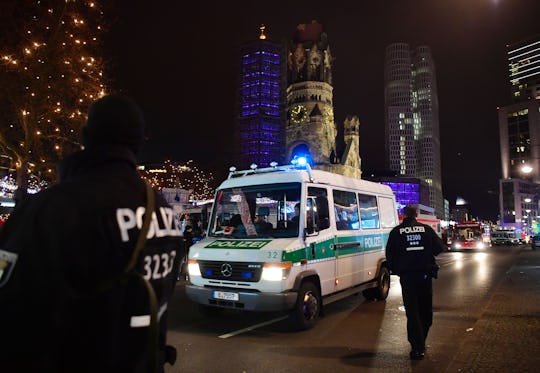 JOHN MACDOUGALL/AFP/Getty Images
Truck Collides With Market In Berlin, Multiple Injuries Reported
On Monday afternoon, German media reported that a truck collided with a Christmas market in Berlin, which reportedly caused multiple injuries and possibly at least one death. Photos and videos of the aftermath posted on social media show damaged stalls and knocked over holiday decorations. Although it was not immediately clear what caused the incident and the facts behind the devastating incident are still murky, German police reportedly believe the truck crash may have been a terrorist attack.
CNN reported that local law enforcement say the crash killed nine people and injured at least 50 others, describing it as a "severe incident."
"We can confirm nine fatalities & many injured. A lot of our colleagues are at #Breitscheidplatz to investigate the background," Berlin police wrote on its official Twitter account following the incident.
One witness tweeted that people had been "crushed" when the truck "ploughed through" the Christmas market in Berlin, one of the German capital's largest. "There is no road nearby," Emma Rushton wrote on Twitter. "I am safe. I am safe."
According to CNN, the market is "difficult to access by accident" and German media said it looks like Monday's incident may have been copied from the deadly terror attack on Bastille Day in Nice, France, when a truck rammed into crowds of people, leaving at least 80 people dead and more than 400 injured back in July.
Reuters reported that one suspect allegedly behind the crash died when the truck rammed into crowds at the holiday market and police have arrested another suspect, who may have possibly been the driver.
Monday's tragedy comes weeks after Islamist terror groups, such as ISIS, were plotting "massacres" at Christmas markets across Europe, prompting the U.S. State Department to issue a travel alert for Americans to be cautious at holiday festivals, events, and outdoor markets. The alert posted on Nov. 21 — which expires on Feb. 20, 2017 — stated:
Credible information indicates the Islamic State of Iraq and the Levant (ISIL or Da'esh), al Qaeda, and their affiliates continue to plan terrorist attacks in Europe, with a focus on the upcoming holiday season and associated events. US citizens should also be alert to the possibility that extremist sympathizers or self-radicalized extremists may conduct attacks during this period with little or no warning. Terrorists may employ a wide variety of tactics, using both conventional and nonconventional weapons and targeting both official and private interests.
While many details about Monday's tragic incident are still unknown, law enforcement in Berlin are reportedly treating the truck crash as a terrorist attack and many fear the death toll could rise as more concrete information becomes available.