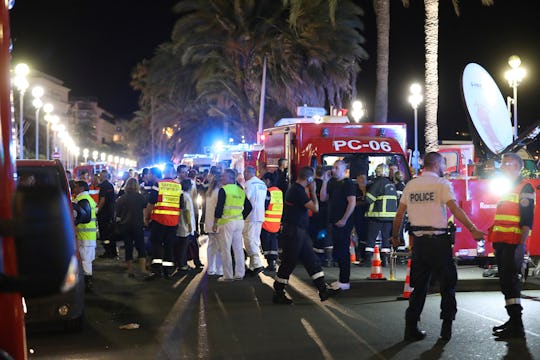 VALERY HACHE/AFP/Getty Images
Truck Drives Into Crowd At Bastille Celebration In Nice, Killing Dozens
The driver of a truck rammed into a crowd at a Bastille Day celebration in Nice, France, on Thursday, according to The Washington Post. At least 30 people are dead, according to the Post. Associated Press journalist Andrew Peng also tweeted that eyewitnesses said the driver accelerated as he hit people and that gunfire could be heard.
Update: French President Francois Hollande announced Friday that the death toll had risen to 84 and at least 50 people were in critical condition "between life and death," according to ABC News.
The Telegraph reported that the driver was shot by police, but already questions about whether the act was terrorism are spreading. People were fleeing the scene in panic, according to videos shared on Twitter and eyewitness accounts. One witness told BFM TV, according to the Telegraph:
We saw a white lorry which drove directly into people on the Promenade des Anglais. A gunman fired into the crowd before being shot by police. Perhaps they are dead, I'm not sure.
Other witnesses confirmed seeing a white van drive into the crowd and that gunshots could be heard, though it's unclear whether any of those killed were shot and just who the shooter may have been. The crowd that was hit was reportedly watching the fireworks display, according to NBC News.
In addition to the 30 dead, the Express news reported that 100 more had been injured. Express also reported that police in Nice are investigating the incident as a possible terror attack, though no terrorist group has yet claimed responsibility for the attack. According to Express, ISIS often uses cars and trucks to carry out attacks, but usually attackers load the vehicle with explosives to inflict maximum damage.
The local paper, the Nice-Matin, tweeted "If you are looking for a place top find cover, use #PortesOuvertesNice (doors open Nice)," according to the Guardian. Descriptions of the scene in news articles and on Twitter are graphic, with dozens of people describing bodies in the street and people running away from the scene.
Already, tributes are pouring in on Twitter. Regardless of how the attack was carried out or who was behind it, dozens of people lost their lives in Nice. With answers will come pain and mourning for those who were killed.