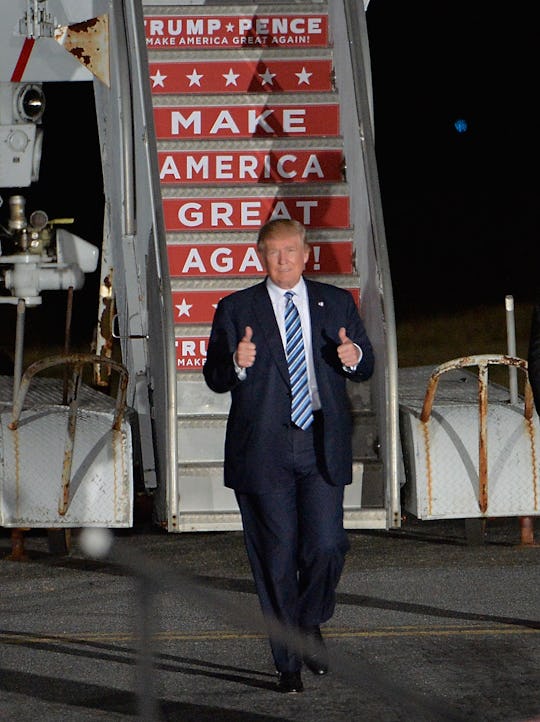 Sara D. Davis/Getty Images News/Getty Images
Trump Adviser Reportedly Bragged About "Voter Suppression" To Lower Clinton Turnout
There's not much about Donald Trump's presidential campaign that hasn't eschewed tradition or caused bewilderment among longtime political watchers. From his refusal to say he'll accept the results of Election Day — that is, of course, unless he wins — to his unwillingness to release his tax returns, as has been routine for most major-party nominees since 1976, the stubbornly proud candidate has continued to chart his own course, even as most polls show him losing to Democratic nominee Hillary Clinton by a wide margin. But the latest reveal from inside the Trump campaign may be especially head-scratching: Even as Trump himself peddles the theory that the election could be "rigged" against him, a senior Trump advisor reportedly bragged about "voter suppression" efforts to dampen Clinton turnout, according to Bloomberg Businessweek.
In an article about the Trump campaign's data-targeting operation — designed, in part, to secure a certain amount of power for Trump after Nov. 8, regardless of whether he ascends to the presidency — Bloomberg shared the details of a Trump campaign strategy aimed not at increasing the electorate or mobilizing potential Trump supporters, but at discouraging likely Clinton voters from turning out at the polls come Nov. 8. "We have three major voter suppression operations under way," a senior official is quoted as saying, the targets of which have been identified as idealistic white liberals, young women, and African Americans. The Trump campaign did not immediately respond to Romper's request for comment.
Examples of such "voter suppression" efforts are described by Bloomberg as follows:
"Trump's invocation at the debate of Clinton's WikiLeaks e-mails and support for the Trans-Pacific Partnership was designed to turn off Sanders supporters."
"The parade of women who say they were sexually assaulted by Bill Clinton and harassed or threatened by Hillary is meant to undermine her appeal to young women."
"... her 1996 suggestion that some African American males are 'super predators' is the basis of a below-the-radar effort to discourage infrequent black voters from showing up at the polls — particularly in Florida." (An animation showing Clinton using the term while discussing the controversial 1994 crime bill was delivered to certain African-American radio stations and will also be distributed to some black voters via Facebook "dark posts," nonpublic content whose viewership is controlled by the campaign.)
The efforts are apparently meant to seriously affect which voters come out to support Clinton on Election Day, Bloomberg reported.
Whether the unusual strategy will work in the Republican candidate's favor remains to be seen, but his campaign's overall success in building an audience of enthusiastic and loyal supporters — with Trump's own money — means he's likely to walk away from Nov. 8 with a database of 12 to 14 million email addresses and contact information, if nothing else. The valuable information could be used for a variety of purposes: to build a 2020 presidential run, to sell to other Republican candidates, or to create an audience for a Trump TV network.
Such a reveal should give even the most ardent Clinton supporters and Trump naysayers a bit of pause. Despite how easy it is to laugh at Trump — who can resist a good Saturday Night Live debate sketch? — or belittle his chances of actually winning the presidency, it's important to take note that Trump's presence in U.S. politics probably won't vanish into thin air after the election. The power he wields among a certain portion of the disaffected electorate means he could be around for awhile beyond 2016, which is part of the reason Trump continues to insist the election may be rigged against him: because it works to incentivize his supporters to not only show up at the polls, but also stick with him should he lose. As Steve Schmidt, John McCain's 2008 presidential campaign chief and an outspoken Trump critic, told Bloomberg:
Trump will get 40 percent of the vote, and half that number at least will buy into his claim that the election was rigged and stolen from him. That is more than enough people to support a multibillion-dollar media business and a powerful presence in American politics.