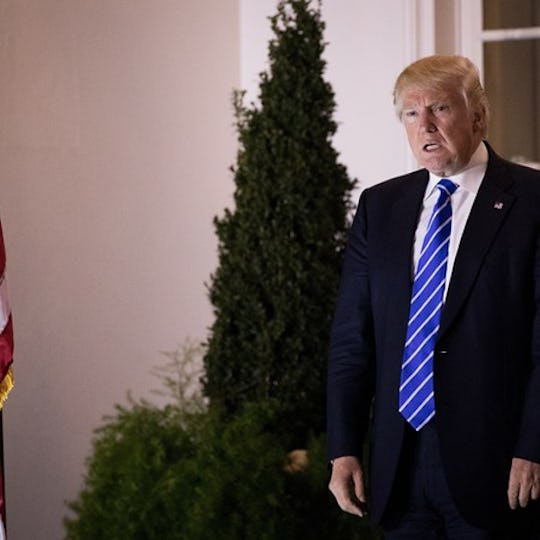 Drew Angerer/Getty Images News/Getty Images
Trump Advisor Calls Climate Change Research "Politicized Science," & It's Factually Wrong
As President-elect Donald Trump and his transition team name more and more appointees for his forthcoming administration, Trump's personnel picks have begun to shed some light on potential policy agendas. Bob Walker, a former congressman who represented Pennsylvania's Lancaster County from 1970 to 1997, is one of Trump's many surrogates, and a senior advisor for Trump's presidential campaign. Speaking to The Guardian, Walker revealed the Trump administration's plans to strip funding from NASA's Earth Science division, calling climate change "politicized science." The only problem for Walker, and ultimately Trump — is that there's a bevy of empirical evidence for climate change and our planet's seemingly unstoppable race toward environmental devastation. Specifically, Walker said:
I believe that climate research is necessary but it has been heavily politicized, which has undermined a lot of the work that researchers have been doing. Mr Trump's decisions will be based upon solid science, not politicized science.
That such a statement about "politicized science" would come from Walker is not a surprise; this isn't the first time he's criticizing the truth about climate change. In 2014, Walker told Newsmax that he believed most research about climate change is driven by politics instead of "the reality of science," as he put it. What's more concerning is that not only is Walker factually incorrect, but that the Trump administration seeks to implement policy that would halt vitally important climate change research.
Even though the above clip is from Aaron Sorkin's fictional drama, Newsroom, the facts outlined by the character are far from fiction: Mother Jones fact-checked Newsroom's climate change scene, and barring a little extra added drama, it's actually largely factually correct. But you don't need an HBO original series to tell you that the world is heating up at levels with which we can no longer keep up — just look at time-lapse imagery of receding glaciers and rising sea levels:
Trump himself has even denied the effects of climate change, even going so far as to say that global warming is a hoax created by the Chinese. Oh I wish how I were making this up about our incoming president, but Trump has never been shy about airing his grievances on Twitter:
However, Trump told The New York Times on Tuesday he believes that there is "some connectivity" between climate change and human actions, in a move that many analysts believe is an attempt to soften his previously hard-line position on climate change. But apparently it's not that much softer if he plans to strip one of the most important federally funded research groups on climate change and how it affects our planet — despite all the evidence out there to support just how imperative it is that we act now for the future of our planet.