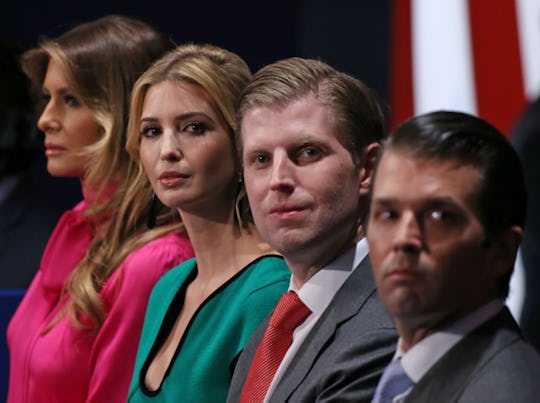 TASOS KATOPODIS/AFP/Getty Images
Trump Asked If His Children Could Receive Top Security Clearance & They Just Might Get It
Sources told CBS News on Monday that President-elect Donald Trump is seeking top-secret security clearance for his children. While it remains unclear what avenues the Trump family will take in securing this clearance, a picture is emerging of a president-elect who envisions a particular role in the White House for his adult children, who include 38-year-old businessman Donald Trump Jr., 35-year-old former model Ivanka Trump, and 32-year-old Eric Trump. Reportedly, this top-secret clearance would also extend to Jared Kushner, Ivanka Trump's politically active husband.
According to CBS News, sources confirm that Trump's transition team "has asked the White House to explore the possibility of getting his children the top secret security clearances." The unnamed sources told CBS that in order to obtain this clearance, the current White House would need to designate Trump's children as "national security advisers to their father." Once Trump becomes president in January, he would "be able to put in the request himself," according to CBS News. It appears that while nepotism rules will prevent the president-elect from hiring his children to work in the White House, these rules will not prevent them from obtaining top-secret security clearance.
This news came on the heels of Friday's revelation that Trump's three adult children, in addition to his son-in-law, were named to his transition team's executive committee. According to The Washington Post, it's highly uncommon to include close family members on a president-elect's transition team, but it's nevertheless perfectly legal because "transition teams are not federal agencies." Once Trump becomes president, he will be bound by nepotism laws, though The Post notes that "it will not be hard for him to bend these rules."
The key anti-nepotism law in question here is a 1967 statute passed after President John F. Kennedy appointed his brother as attorney general, according to CNN. It stipulates that no public official, including the president, can hire a relative to head an executive agency. Both CNN and The Post note that Trump could curtail this law by simply not providing a salary to his relatives. According to The Post, it seems likely that Trump would avoid the public outcry of a cabinet appointment and instead keep his "family members close by, treating them as advisers and informally involving them in presidential business."
All signs point to this manner of unofficial yet deeply influential roles for Trump's children. And when it comes to Trump's children, the real concern isn't just their security clearance, per se. There's an elephant in the room, and that elephant is The Trump Organization, which is comprised of what The Guardian refers to as a vast, "sprawling, international network of businesses."
In the past, president-elects with significant business holdings have placed these interests in a blind trust as part of a vital effort to prevent conflicts of interest. But this is not what Trump plans to do. Instead of a true blind trust, Trump reportedly plans to place his business interests in a "blind" trust that his three adult children will oversee.
The same three adult children for whom he now seeks top security clearances.
According to Politico, the use of the term "blind trust" in this context is meaningless, because a blind trust, by definition, is managed by "an independent party" who would be unaware of the contents of the trust. It seems that in truth, Trump's three children are taking the helm of his businesses. Indeed, in a 60 Minutes interview on Friday, Eric Trump said that after his father takes office, he and his siblings will "be in New York, and we'll take care of the business. I think we're going to have a lot of fun doing it. And we're going to make him very proud."
Back in September, Donald Trump Jr. spoke of this same arrangement, telling ABC's George Stephanopoulos of ABC News that he and his siblings would run a "blind trust" comprised of his father's business holdings. When Stephanopoulos pointed out (several times) that a trust isn't "blind" if it's run by the business holder's children, Trump Jr. countered, saying, "he'll have nothing to do with it [the business], George. He's said that." In the same interview, Trump Jr. claimed that he and his siblings are "not going to be involved in government."
And yet, Trump Jr. and his siblings are already involved in the government, and it's only been a week since their father was elected. So there goes that argument. Trump Jr. also told Stephanopoulos that the planned arrangement for The Trump Organization is "standard operating procedure for any president who has had businesses." In point of fact, the opposite is the case: As Stephanopoulos was quick to point out, previous presidents including Ronald Reagan, Bill Clinton, and both Bush presidents all placed their businesses in true blind trusts while they were campaigning, before they were even elected. So Trump's ongoing failure to do so is a pronounced departure from precedent.
A Vanity Fair article published this week noted that Ivanka Trump and Jared Kushner are ascending to a role so powerful that "they are about to occupy an unprecedented place in American history, more like a House of Cards plot-line than any prior White House reality." If that's the case, then the best that can be said about this unfolding drama is that, like House of Cards, it will be both riveting and terrifying to watch.