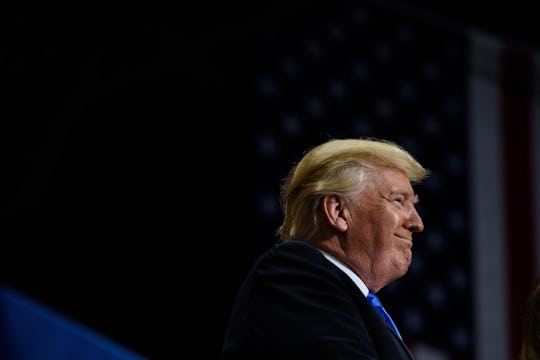 Justin Merriman/Getty Images News/Getty Images
Trump Bans Transgender People From The Military In Series Of Tweets
Tweets are now official presidential statements, or so we've been told. And the latest one is shocking: Trump has banned transgender people from the military, according to a Wednesday morning Twitter tirade. Throughout three tweets, Trump wrote, "After consultation with my Generals and military experts, please be advised that the United States Government will not accept or allow ... Transgender individuals to serve in any capacity in the U.S. Military. Our military must be focused on decisive and overwhelming ... victory and cannot be burdened with the tremendous medical costs and disruption that transgender in the military would entail. Thank you." (Punctuation and spacing were edited for clarity.)
The U.S. military ended its ban on transgender service members just over a year ago in June 2016, but even under the ban, they were still serving. In 2014, UCLA's Williams Institute estimated that about 15,500 transgender people were serving on active duty, Guard, or Reserve, but it's hard to get an accurate number when simply checking "yes" on a survey can put one's career in jeopardy. It's still unknown how many transgender people are enlisted, since some may have chosen to stay closeted out of concern for their personal safety.
While the Trump administration hasn't attacked the LGBTQ community as loudly or as frequently as it has some other groups, make no mistake; this isn't new. In February, Trump's Justice and Education departments ended Obama-era guidance that directed schools to allow transgender students to use the bathrooms and locker rooms that corresponded to their gender identities, according to the Associated Press. Trump still hasn't filled the Army Secretary position, but his nominee, Tennessee Sen. Mark Green, withdrew in May after his comments about the transgender community drew outrage from both parties. According to NBC News, Green claimed that being transgender was a "disease" and compared trans people to ISIS.
Though this is the most direct attack yet, Trump's micro-aggressions against LGBTQ people haven't gone unnoticed, either. He refused to recognize Pride Month in June, even though his daughter did (twice). And though he promised in his Republican National Convention speech to "protect our LGBTQ citizens from the violence and oppression of a hateful foreign ideology," he made no such promise with regards to hateful domestic ideology, and he then proceeded to staff his cabinet with a group of people who, frankly, are the stuff of nightmares for LGBTQ Americans. It's unclear what legal ramifications his latest tweets will have, but the immediate impact is that Trump has just put thousands of U.S. armed forces members — "our true heroes," as he tweeted just days ago — in serious danger.